A sentence handed down in the case of a woman who struck a gay man on a bicycle while she was drunk, killing him, is getting attention in Arizona. Melissa Arrington might have received as little as four years behind bars but the judge gave her six and a half more because of a taped phone call she made from jail two days after the accident.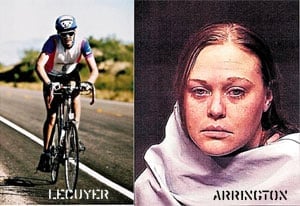 Mark Kimble of the Tucson Citizen reports:
"Less than 11 months earlier, she had been arrested and charged with DUI. She was sentenced to two days in jail and 18 months of probation. Her driver's license was revoked. Nonetheless, on that Friday evening in December 2006, she left the bar to drive home. A woman driving behind her saw her run off the road several times. On the far East Side, Arrington turned onto Old Spanish Trail. She again drifted off the road several times. The final time, she was so far off the road that she hit L'Ecuyer with the driver's side of her truck as she tried to get back on the pavement. He was thrown into the bed of her pickup, where he died. When she was sentenced Tuesday, Arrington received close to the maximum prison time permitted. Cruikshank said that was partially because of the lack of remorse she exhibited in a telephone call from jail two days after the accident. The call, as are all calls to and from inmates, was taped, and it was played in court at Arrington's sentencing. On it, a male friend congratulated her on killing L'Ecuyer and told her she deserved 'a medal and a f—ing parade because you took out a (slur for a gay person), a cyclist, a tree hugger and a Frenchman in one shot.' Arrington's response, captured on the tape, was to laugh. Cruikshank called that 'breathtaking in its inhumanity.' Now Arrington says she is ready to be remorseful – serving her sentence, turning her life around and working on her idea for her own anti-DUI group."
Read the rest of Kimble's piece to see the kind of life Arrington wasted.
Kimble: Cyclist deserved to live a full life [tucson citizen]
Jailed drunk driver mocks 'dead gay guy' [ap]