CROOKS: Emails went missing from Bush and Cheney offices the very day Alberto Gonzalez "ordered the president and the vice president's staff to 'preserve all materials that might be relevant' to an inchoate Justice Department probe."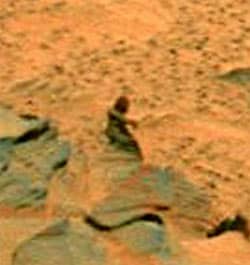 Mysterious 'alien' figure spotted in Martian landscape!

Pentagon releases statement on "Don't Ask, Don't Tell" policy, saying it is continuing to discharge gay and lesbian soldiers even though reports have shown a recent major drop in such cases. Statement: "Our policy implements the law Congress passed after prolonged research and debate. The department will continue to follow congressional mandate on homosexual conduct. We can't speculate as to why the number of discharges has declined."

Amy Winehouse in downward spiral — caught smoking crack ON VIDEO.

European Court of Human Rights rules: France discriminated against lesbian mother by refusing to allow her to adopt a child. "The judges decided that the woman was a victim of discrimination because of her sexual orientation. They said her right to family life under the European Convention on Human Rights had also been infringed. France has been told to pay her damages…The court's ruling in Strasbourg on Tuesday noted that: 'French law allowed single persons to adopt a child, thereby opening up the possibility of adoption by a single homosexual.' The court criticised the French judiciary's emphasis on "the lack of a paternal referent in the household" in the case of the lesbian woman, who was identified only as E.B. The reference to the applicant's homosexuality had been "if not explicit, at least implicit," the ruling said."

Beijing builds giant nest as Olympic Stadium.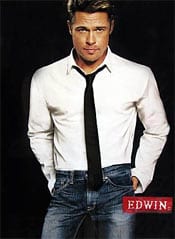 Nothing gets between Brad Pitt and his Edwins.

The coldest place in the universe was recently observed…right here on Earth: "The record-breaking lows were among the latest feats of ultracold physics, the laboratory study of matter at temperatures so mind-bogglingly frigid that atoms and even light itself behave in highly unusual ways. Electrical resistance in some elements disappears below about minus 440°F, a phenomenon called superconductivity. At even lower temperatures, some liquefied gases become "superfluids" capable of oozing through walls solid enough to hold any other sort of liquid; they even seem to defy gravity as they creep up, over and out of their containers."

The Mr. Gay International swimsuit competition – on video.

Dow plunges 465 points, then recovers most of it after Federal Reserve interest rate emergency cut: "The U.S. markets joined a global selloff amid growing fears that a recession in the United States could send economies around the world into a downturn. Though stocks regained ground as investors digested the Fed's move to cut its benchmark federal funds rate by 0.75 percentage point and as bargain-hunters entered the market, trading remained volatile and the major indexes fluctuated sharply, at times approaching the break-even point before heading down again." Bernanke setting the stage for an even bigger recession?

Did Katie Holmes fake running the New York Marathon? Plenty of evidence seems to suggest that maybe she did.

Idaho legislature floats first-ever anti-discrimination bill that includes gays and lesbians: "Leslie Goddard, director of the Human Rights Commission beautifully presented the bill after an introduction by Senator Tim Corder, a major sponsor or the legislation. Some may remember the Mountain Home Republican Senator from a City Club debate in 2006 or from his past vote to ban gay marriage in Idaho's Constitution. His support of this year's legislation speaks loudly to the fundamental fairness implicit in the issue of employment discrimination and to the progress made on understanding of these issues over the years."