Bill Richardson will announce he's getting out of the race on Thursday after failing to make headway in either of the first two contests in the election season, the AP reports: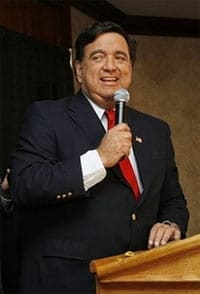 "The Richardson campaign would not comment on the governor's decision, reached after a meeting with his top advisers Wednesday in New Mexico. Richardson had one of the most wide-ranging resumes of any candidate ever to run for the presidency, bringing experience from his time in Congress, President Clinton's Cabinet, in the New Mexico statehouse as well as his unique role as a freelance diplomat. As a Hispanic, he added to the unprecedented diversity in the Democratic field that also included a black and a woman. But Hillary Rodham Clinton and Barack Obama dominated the spotlight in the campaign, and Richardson was never able to become a top-tier contender. He accused his rivals of failing to commit to bring troops home from Iraq soon enough. He portrayed his campaign as a job application for president, and ran clever ads that showed a bored interviewer unimpressed with his dazzling resume. The commercials helped fuel his move to double-digit support in some early state polls, and advisers argued he was poised to move past former vice presidential nominee John Edwards for the role of third-place challenger. But he was not able to build the momentum and came in a distant fourth place in Iowa and New Hampshire. Richardson didn't get quite 5 percent in the New Hampshire primary Tuesday and came in with just 2 percent in the Iowa caucus last week."
Richardson also made a couple notable gaffes with respect to gays and lesbians. In July, he was forced to apologize after an exchange with radio host Don Imus in 2006 was unearthed in which he had used the slur "maricón" in reference to gay people. Richardson explained that in the Spanish that he grew up with, the word maricón "means simply 'gay,' not positive or negative."
And at LOGO's Presidential Forum on LGBT issues, he told moderator Melissa Etheridge "It's a choice" when asked whether homosexuality was a choice or biological.
A shocked Etheridge said, "I don't think you understood the question. Do you think I — a homosexual is born that way, or do you think that around seventh grade we go, 'Oh, I want to be gay?'"
Answered Richardson: "I'm not a scientist. I don't see this as an issue of science or definition. I see gays and lesbians as people, as a matter of human decency."
Richardson issued a statement following the debate: "Let me be clear — I do not believe that sexual orientation or gender identity happen by choice. But I'm not a scientist, and the point I was trying to make is that no matter how it happens, we are all equal and should be treated that way under the law. That is what I believe, that is what I have spent my career fighting for. I ask that people look at my record and my actions and they will see I have been a true supporter of the LGBT community."