Bill Salier, the pig farmer who was spearheading the Iowa campaign to impeach Judge Robert Hanson for declaring the state's ban on same-sex marriage unconstitutional, has turned in petitions urging impeachment containing 6,000 signatures to the Iowa legislature, the AP reports: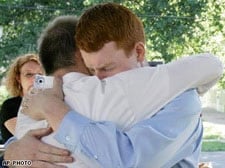 "He says the goal is to 'stop a runaway judiciary.' Salier says Polk County Judge Robert Hanson overstepped his authority by legalizing gay marriage last summer. Hanson stayed his ruling while it's under appeal to the Iowa Supreme Court. Impeaching a judge takes an act of the Legislature."
Salier, a big supporter of Republican Tom Tancredo, began his campaign last September.
Getting rid of the 'evil' judge who ruled for tolerance is not the only goal of religious conservatives in the state: "Critics of Hanson's ruling are pushing lawmakers for a constitutional amendment banning gay marriage. Democrats who control both the House and Senate have taken the issue off the table and are dismissing Salier's effort. House Speaker Pat Murphy says they're 'not doing anything on it.'"
Last week, a "pro-family" group demonstrated at the Iowa State House in order to pressure the judiciary to take up their cause. The justices declined to comment on it.
Hanson's ruling last August was stayed almost immediately after it happened, but not before Sean Fritz and Tim McQuillan had the chance to get married. Iowa's only same-sex married couple took a few moments last week to reflect on what has happened in the meantime.
Petitions seeking judge's impeachment over gay marriage delivered [ap]
You may have missed…
Hundreds of Anti-Gay Bigots Push Iowa High Court on Marriage [tr]
Iowa Group Moves to Impeach Judge Who Allowed Gay Marriages [tr]