Hillary Clinton and Barack Obama exchange nasty radio ads here and here.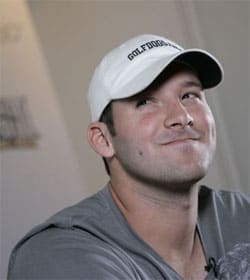 Tony Romo can't shake off the albatross that brought down the Dallas Cowboys.

Underground movement underway by lesbians who don't want to be called 'lesbian' anymore. Their replacement name: Gayelle.

Washington state legislature has largest gay caucus in the U.S.: "Marko Liias, a 26-year-old Democrat from Mukilteo, started the legislative session earlier this month, replacing former Rep. Brian Sullivan, who left the Legislature for the Snohomish County Council. Liias' arrival gives Washington six openly gay lawmakers, ahead of California's five. That makes Washington the state with the largest Capitol gay caucus, according to the Gay and Lesbian Victory Fund, a Washington, D.C.-based political action committee. 'Anything that we can do, me as an individual, or us as a state, to be leaders on this issue and be role models is excellent,' Liias told The Associated Press Wednesday. 'The message really is, everyone deserves a stake in Washington, and everyone has a stake in Washington's future.' Liias joins Reps. Jamie Pedersen, D-Seattle, Jim Moeller, D-Vancouver and Dave Upthegrove, D-Des Moines, and Sens. Ed Murray, D-Seattle, and Joe McDermott, D-Seattle." (CORRECTION: Victory Fund issues – statement: NH has most out legislators)

CLICK HERE if you're interested in knowing the funky name for the new James Bond film.

And guess who else has a new name? P Diddy.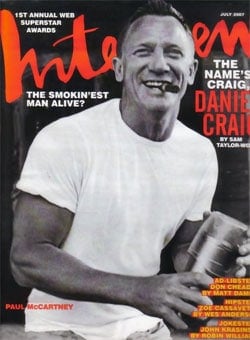 Publisher Sandra Brant and editor-in-chief Ingrid Sischy leave Interview magazine.

Ceremony to be held on Monday in Westminster will remember Holocaust victims, including gays: "Groups such as the Roma, gay people and people with disabilities who also suffered under Nazi rule will be commemorated through song and imagery along with victims of other genocides.The event is part of a wider programme of education in Westminster's youth centres to explore the issues of racism, homophobia and sexism."

A closer look at finger lengths.

John Travolta had an obsession with Heath Ledger: "I wanted to meet him because I was very impressed with him from the very beginning. His agent introduced me to him at a party, and I just fell — I used every accolade. Actors need other actors to be inspired by, and he was 'my' actor….My feeling on Heath is I don't want to lose him at any age, 28 or 88, like Marlon Brando. I didn't like his passing, he was special to me, and he was a friend. At any age you don't want to lose someone like that — he was a valuable guy. I am truly sorry and my heart goes out to everyone who knew him and loved him, and actually, my heart goes out to me, I really don't like it. I don't like it…"

New South Wales police fight back against accusations of homophobia related to the recent surge of anti-gay violence in and around Sydney: "It should be pointed out that it can be very difficult for police officers to ask a victim whether they believe a crime was motivated by homophobia, or if it is a hate-related crime, especially if the victim has not voluntarily stated their sexuality. It is a sensitive topic that can lead to allegations of police either making inappropriate assumptions about someone's sexuality or, or on the other hand, not treating a crime as a hate crime."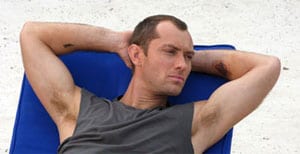 Jude Law spends a day at the beach.

Queerty talks to author Tom Dolby about his new book The Sixth Form.

Berlin film fesitval Panorama arthouse sidebar featuring a bunch of gay films: "Discrimination against gays and lesbians is one of this year's hot topics in Dokumente and the subject of several films, including 'Das andere Istanbul,' by Doendue Kilic; 'East/West — Sex & Politics,' by Jochen Hick; 'Suddenly, Last Winter,' by Gustav Hofer and Luca Ragazzi, as well as Rosa von Praunheim's 'Tote Schwule — lebende Lesben.'"

Maryland marriage bill gets new sponsors.