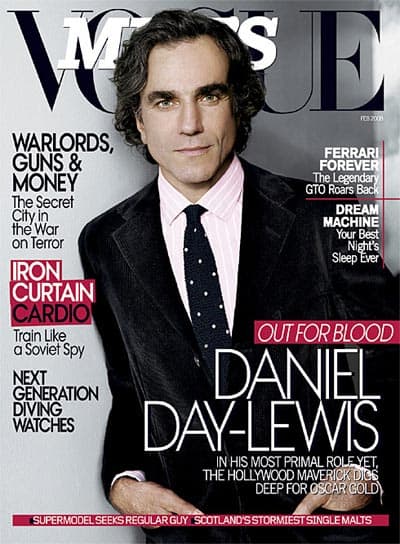 The Golden Globe winner and Oscar contender for There Will Be Blood brightens up the cover of Men's Vogue this month.
Good timing for the magazine, but if the New York Daily News's Ben Widdicombe is right, Day-Lewis might have been exchanged last minute for another contender.
Via Gatecrasher: "'They are notorious for promising the same cover to two or three different people," one insider complained. They double-shoot and they lie. Or they flip them so the celebrity isn't on the month they thought they were. [December cover star] Will Smith was flipped, and they did the same to Daniel Day-Lewis for March ['08], which causes huge problems.' The source also said Owen Wilson and director Wes Anderson posed for what they believed to be a cover shoot – but the picture ended up inside the magazine. 'They're indecisive, and no one is accountable,' fumed the source, a major Hollywood player. 'They try to make out that [Vogue titles editorial director] Anna Wintour is making the calls, but I don't think she has any idea what's going on.' A spokeswoman for the magazine said Wednesday: 'As a standard practice, we never guarantee a specific cover date, though we aim for a cover story that is timely with current events or the release of a film.'"
And Kathy Griffin will explain it all for you — it's called a "cover try".