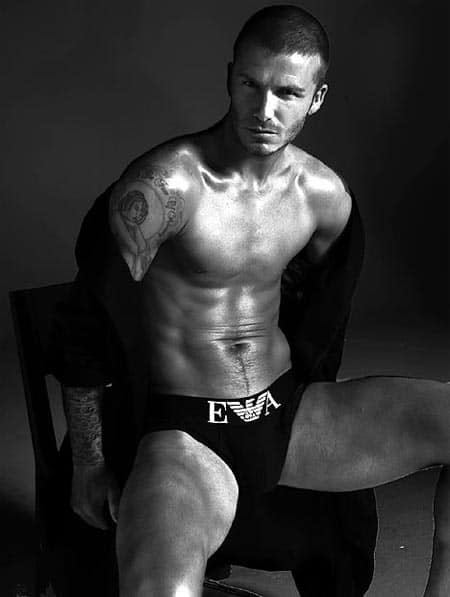 David Beckham's recent Emporio Armani underwear ads have sparked a rush to the spa for men in the UK, The Guardian reports:
"All over the country more and more men (gay and straight alike) are marching into beauty salons and demanding a 'Boyzilian', or as one Yorkshire-based salon bills it, 'the Full Monty'. In other words, the complete or near-complete removal of hair in intimate areas using wax. If you have £120 to spare, you can even get it done in Harrods, in the Refinery spa. On Thursday in Norwich, 44-year-old father Stuart, from near Ipswich, had taken the day off work to make the 100-mile round trip to the Lounge, a new hairdressing salon which incorporates 'Norwich's only dedicated waxing bar'. It was his second visit to 21-year-old beautician Amanda Senior, who charges between £40 and £60 depending on how hairy the client. It is cheaper if men just want their bikini line done, though the treatment is called the 'Speedo'. 'It just looks nice and tidy,' said Stuart after his 'back, sack and crack'. 'Of course it is slightly painful, but in my experience not nearly as sore as having your chest waxed. It's much better than shaving it, too. You don't get those awkward nicks and it doesn't grow back anything like as quickly.'"
Meanwhile, in China, a condom maker is using Beckham's image to market condoms, and given Victoria's Beckham's comments about her husband's assets, we assume they're magnums.
Men seeking Beckham effect go wild for Boyzilians [the guardian]
Score like David Beckham [the sun]