A Heathrow airport worker told a British tribunal of sexual harassment he experienced at the hands of a female supervisor. Said Allwyn Rondeau, who was "responsible for guarding planes, scanning luggage and frisking passengers" at Heathrow Airport: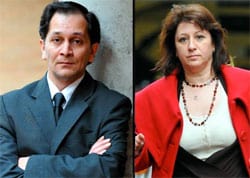 "My supervisor told me that she said she fancied me. Although I had told her I was gay, soon after her behaviour towards me changed. As she became more comfortable in my company, her behaviour became more outrageous…"She walked towards me and stopped and faced me while pressing her body against mine. She wobbled her breasts against me while physically touching me and said 'you wouldn't know what to do with a woman'. "It shocked and appalled me, I do not expect to be mocked for being gay…I turned around and she was physically bending over a chair while pointing to her posterior and shaking her rear end in my direction. She said 'come on, give it to me'. [In a work van at the airport Miss Chilton] "grabbed my hand and placed it on her breast. I immediately pulled my hand away. "She pinched my bum, then she grabbed my crotch…I rarely leave the house now without my partner. I realise in hindsight that I should have complained immediately after each incident, but I did not want to draw attention to my sexuality."
Rondeau is also suing the airport security services for discrimination because during the internal investigation of his claims, only he, and not his molester, was suspended from duty.