Iraq's parliament received a bill on Tuesday that could grant amnesty to thousands of detainees. Those imprisoned for homosexuality would remain locked up, however.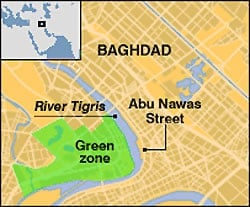 The AP reports: "The bill excludes those held in U.S. custody and those imprisoned for a variety of crimes ranging from terrorism, kidnapping and rape to antiquities smuggling, adultery and homosexuality. It also excludes senior figures of the former Baath regime. If passed in its current form, the bill could see some 5,000 prisoners released, al-Dabbagh said. The Iraqi government has about 20,000 people in custody, while the U.S. military holds about 25,000. Sunni parliamentarians have criticized the draft for its limited scope. They have argued that most prisoners are charged with terrorist crimes, rendering the bill ineffective. Some also fear referring the bill to Iraq's gridlocked parliament will actually delay prisoner releases."
What a travesty. Life in Iraq for gays is either stuck in prison or hiding in cells like terrorists, fearing for your life.
Related
NYT: Gays Hiding Like Terrorists in the New Iraq [tr]