Spinner reports that Scissor Sisters' Jake Shears has been hard at work on a set of tunes for a musical version of Armistead Maupin's Tales of the City.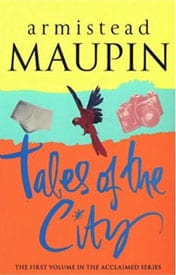 Spinner reports: "Since his pal, Jeff Whitty, sent him a note asking him what he thought of the books a year ago, Shears has been coming up with ideas and melodies. 'Over a year ago, I got a note from him saying, 'What do you think of 'Tales of the City?' I'm crazy about 'Tales!' I grew up on the books,' Shears enthuses. 'They were a big part of my teenager-hood. They're just great, great books with amazing characters and I love the era. My heart just started racing. I got very excited about it.' He's spent almost a year working on the project already, amassing 15 numbers. 'It's poppy and since there's no arrangement yet, all of our writing is just piano and my voice,' he explains. 'As it take shape, it's gonna even take on more of a style."
Whitty wrote the book for Avenue Q.
According to Spinner, Scissor Sisters have also just begun working in the studio again on their third album:
"The flashy New York City five-piece are currently forcing themselves to hit the studio on a daily basis, to pen a host of new tunes. So far, Shears said they've come up with a handful of new 'really dancy' pop numbers and at least one sparkling rendition of someone else's song. 'We've started out with a really cool cover, which I'm not even gonna say what it is,' Shears says coyly. 'I mean, no one would know anyway. It's a pretty obscure song.'"
Previously
Jake Shears Interviews Dolly Parton in UK Special [tr]
Jake Shears Would "Take That" if Asked [tr]
Scissor Sisters' Jake Shears and Partner to Get Hitched [tr]