The Kentucky Senate has passed a bill that would ban universities and state agencies from offering benefits to the partners of gay and lesbian employees: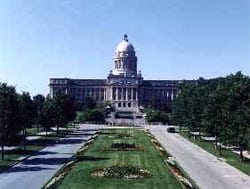 "The vote on Senate Bill 112 was 30-5, with Democratic Sens. Ernesto Scorsone of Lexington, Denise Harper Angel of Louisville, Gerald Neal of Louisville, R.J. Palmer of Winchester and Tim Shaughnessy of Louisville voting against it. 'The only thing that drives this measure is a gay-bashing effort,' said Scorsone, a homosexual. Proponents of the bill say allowing universities to offer domestic-partner benefits violates the Kentucky Constitution, which was amended in 2004 to ban same-sex marriage. 'I have sympathy for Sen. Scorsone,' said Senate President David Williams, R-Burkesville. 'I know it's difficult for him to deal with this issue. Nobody directed any comments at him, nor would we have stood for anyone to say anything disrespectful on the floor.'"
Bunch of bigots. Isn't it great how even the Courier-Journal paints Scorsone as not really a person but: 'a homosexual'.
The bill passed on religious values. Said sponsor Vernie McGaha, R-Russell Springs: "I do not recognize domestic partnerships as being a correct thing. My Bible teaches against it."
The bill now awaits a House vote. Thankfully, a similar bill failed to pass there last year.