A female choir member at the D.C. Greater Mount Calvary Holy Church has sent a letter to its pastor, outing over 100 church members, mostly male members of the choir, the Washington Blade reports: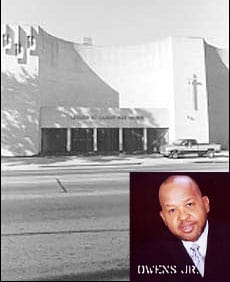 "The outings added to the inner turmoil experienced by a large number of gays who attend services at the 7,000-member Greater Mount Calvary Holy Church, located on Rhode Island Ave., N.E., according to a gay former member who provided copies of the e-mails to the Blade. 'I will be leaving the choir at the top of the year because 80 percent of the tenors are homosexuals and act more like a female in choir rehearsal than I do,' the church choir member said in one of her e-mails to Bishop Alfred Owens Jr., the church pastor. The e-mail, sent in December, identifies about 45 fellow church members as gay. She sent a second e-mail to Owens on Jan. 2 identifying another 62 church members as gay. 'The following people I am asking you to monitor very closely and my prayer is that you will sit them down from their ministries,' she told Owens in the December e-mail. 'Because they are ushering in the presence of sin, lies, a spirit of homosexuality and sexual spirits.'"
The female choir member also copied the email to over 300 additional church members on a Yahoo group.
The pastor would likely be sympathetic to her concerns, given his past: "Owens became the subject of media attention in April 2006 when he used the word 'fag' in a sermon on Palm Sunday. 'It takes real men to confess Jesus as Lord and Savior,' Owens said in the sermon, which was recorded by the church. 'I'm not talking about no faggot or no sissy,' he said. 'Let the real men come down here and take a bow — all the real men. I'm talking about straight men … praise God that you're straight.' The church's web site includes a listing of twice-monthly sessions of a ministry called 'Breaking the Chains of Homosexuality,' which it says helps gays change their sexual orientation through counseling and prayer. Minister Dennis Sawyers, an expert in 'ex-gay' ministries, is listed as the leader of the church's efforts to counsel gays."
Sylvia Rhue, director of the National Black Justice Coalition's religious affairs program said that many gays attend that church because they like the "traditional setting" they find there. A setting, which, at this particular church, is now in turmoil.
Outing campaign roils D.C. black Baptist church [washington blade]