In a post on their blog, the Log Cabin Republicans defend the John McCain Florida robo-call I posted about the other day, the one in which McCain attempted to frighten Floridians with the prospect of gays and their "special rights":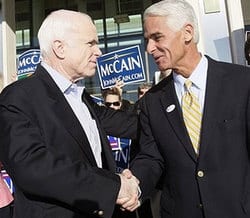 Said the call: "Mitt Romney thinks he can fool us. He supported abortion on demand, even allowed a law mandating taxpayer-funding for abortion. He says he changed his mind, but he still hasn't changed the law. He told gay organizers in Massachusetts he would be a stronger advocate for special rights than even Ted Kennedy. Now, it's something different."
LCR writes: "Had anyone bothered to reach out to the McCain Campaign, they would have realized Sen. McCain immediately stopped the calls. The campaign told us Sen. McCain never saw the script and never approved it, which is why he stopped the calls ASAP."
According to one blogger, however, the McCain spokesman LCR refused to go on record and the robo-call itself said "Prepared and Paid for by McCain for President."
Finally, the LCR asks, "Of course, those facts won't satisfy the left-wing who pounces on these kinds of things. But where were these same left-wingers when Democrat Barack Obama, who has never introduced a single piece of pro-gay legislation in his Senate career, paraded around on stage with an anti-gay religious leader who believes in so-called "conversion therapy"? Where were they when Democrat Sen. Hillary Clinton couldn't bring herself to denounce Gen. Peter Pace's anti-gay remarks last year? Where were they when Obama proposed meetings and negotiations with the gay-murdering president of Iran?"
Actually, the left blogosphere spent weeks outraged over the McClurkin appearance and also called out Hillary and Obama for their hesitancy to speak out on Peter Pace's statements.
Pam Spaulding asks, "The defensiveness of the LCR post begs the question — is this all about frustration that they have such slim pickins this cycle? After BushCo turning on the ignition,putting into drive and running over them, backing up and gunning it over them again, the entire 2008 Clown Car slate showed zero progress on LGBT neutrality, let alone advocacy. All the ones with fairly moderate issues on the issues abandoned LCRs to court the Base. What it means for a Log Cabin Republican that wants to vote for the principles the organization stands for is that they are placed again in the position of justifying support for a candidate, in this case John McCain, who is willing to pull out the homo strawman."
Aside from the robo-call incident, that a gay group would rush to the defense of a man who until a few months ago never heard the acronym LGBT before, supports Don't Ask, Don't Tell, is not sure if condoms stop the spread of HIV/AIDS, thinks gays should be able to marry (just not legally), and worries about his 'gay' clothing choices, is laughable.
McCain Campaign Robo-Calls [blogcabin]
Log Cabin Republicans defend McCain on anti-gay robocalls [pam's house blend]
Previously
Donnie McClurkin Hub [tr]
Is Homosexuality Immoral? Clinton, Obama Won't Say [tr]
Ahmadinejad: "In Iran, we don't have homosexuals" [tr]