A new poll by the Baltimore Sun reveals that a majority of voters in Maryland back some form of legalized same-sex union: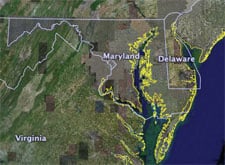 "Nineteen percent of likely voters said they support gay marriage, and 39 percent said they back civil unions, meaning that nearly three out of five believe the state should formally recognize same-sex relationships. Maryland law bans same-sex marriage. Thirty-one percent of those polled said they disagree with granting either form of same-sex unions, but only half of those opponents said a constitutional amendment is needed to ban them. Eleven percent said they were not sure or declined to answer the question."
The challenge to a law that defines marriage as between a man and a woman failed last September when the state's high court upheld it. The battle has since been taken to the legislature but the paper notes a lack of consensus among lawmakers may hold up any progress on the issue, at least for now.
Majority favors legalized unions [baltimore sun]