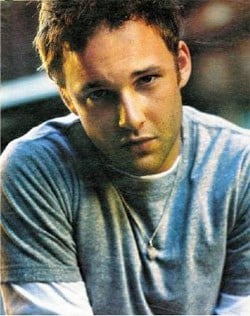 ***BEGIN EXCERPT***
Here and there I hear snips of the young stars' stories. Brad was discovered at the tender age of ten to appear in Joel Schumaker's The Client , shot in and around Brad's hometown of Knoxville. His parents have a shady past, something about the illicit selling of milk and cookies and birthday cake and ice cream. There's a bizarre story about one of his relatives putting out a contract on the life of his little sister and his grandmother, of both being shot and both surviving. There's the fact that he has to go back to Tennessee to face charges of grand theft auto and possession of cocaine and marijuana, which I only mention because it's already all over the internet. He's such a sweet boy though. He adopts me as his Aunt Bruce ("you must admit you're pretty effeminate, and you should be proud of it," he learns me), probably because he's used to being adopted by gay director types (Joel Schumaker, whom he's stayed with; Bryan Singer). He promises his grandmother he won't leave the hotel again tonight.
We're on the way to the jacuzzi. Four of us have made it this far; Robin Fuckin' Black has gone missing. Fro brings his guitar and Dominique brings the cigarettes, Mark and I bring our tattoos but the stolen Jägermeister has gone missing. We hit the jacuzzi in our underwear as several middle-aged men ride stationary bikes and run on tread mills on the other side of the room. The lights of the city lay before us in the darkened morning. Dominique surfaces and smiles.
Back to Dominique's room for some mini-bar candy. We decide to head to my apartment because we can't get beer from room service until 11 a.m. and it's only seven-ish. Brad puts on his pyjamas and his parka and his black oxford shoes. He looks like an eight-year-old kid who's just come back from the drive-in. He plays and sings his guitar, bluegrass, for me and Mark and Dominique and the cabby in the umpteenth cab of the night. He's in love with Dominique; she fends off his charming barrage of sweet-talk like a seasoned pro.
At my apartment the morning sun pours in through the windows. We head for the kitchen and the beers. Brad freaks out at the photo montage of River Phoenix that hangs over my kitchen sink, which includes the photo published in the National Enquirer of River in his casket. You see, people often compare Fro to the late, great Phoenix. Fro tells me I'm morbid, then shakes it off.
***END OF EXCERPT***
LaBruce recently posted a remembrance on his blog as well.
An autopsy is planned for today to try and determine what caused the actor's young, tragic death.
(source)