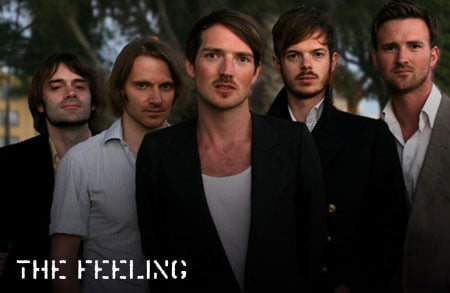 Please welcome Robbie Daw, who will be penning weekly music posts for us here on Towleroad! Robbie runs his own pop music site called Chart Rigger.
While everyone's currently bedazzled by Radiohead's In Rainbows and the new Janet Jackson video, here are a couple alternatives you might have missed when their clips popped up over the busy holidays.
Mark Brown featuring Sarah Cracknell – "The Journey Continues": Built around a piece of classical music composed by Elena Kats Chernin that's currently being used in commercials by U.K. insurance firm Lloyd's, DJ and dance label head Mark Brown wisely chose Saint Etienne frontwoman Sarah Cracknell to sing over the haunting track. It's already become a radio hit abroad, ahead of its February 4 single release. We stateside folk can download "The Journey Continues" from 7 Digital. Incidentally, The Sun reports that the video is made up of 30,000 still photographs. Cracknell herself makes a Hitchcockian, blink-and-you'll-miss-it appearance during the second verse.
The Feeling – "I Thought It Was Over": Last month I posted a fan-made YouTube clip of the first single off The Feeling's upcoming sophomore album Join With Us, but here now is the official video. Openly-gay lead singer Dan Gillespie Sells has some fun with tongue-in-cheek wordplay during the chorus. While Interscope put out the band's debut album here in the States last year, there's no word yet on a domestic release for Join With Us yet. The album is out in the U.K. February 18, a week after "I Thought It Was Over" is made available digitally and in stores.

Billboard reports today that Radiohead's In Rainbows has debuted atop the album chart after it was finally made available in retail outlets and on iTunes. The publication also points out that In Rainbows only sold 122,000 copies compared to the 300,000 first-week copies 2003's Hail To The Thief moved, though the new album has been selling untracked by SoundScan for two months already at Radiohead.com.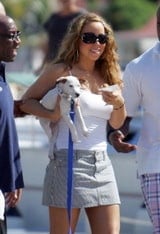 Meanwhile, the Juno soundtrack, which has been dominating the iTunes download chart for a couple weeks, makes a somewhat official debut on the Billboard tally. Though it was only available digitally until yesterday, several retailers violated the physical CD's street date and put it out last week. The soundtrack enters the official Top 200 Albums chart at #8.

Apple drops iTunes prices in the U.K. to avoid an expensive antitrust conflict.

Mariah Carey to People on the reported J. Lo "pig" comment: "This is just some internet gossip and it's pathetic that people actually entertain the thought that this could be real. This is another sad example of two strong women being pitted against each other." She'll probably save the real zingers for this spring, when her new album is expected to drop alongside Madonna's.

Former American Idols Ruben Studdard and Taylor Hicks have been let go from J Records, making Hicks the first winner not to make a second album while signed to a major label.

The YouTube "teaser" clip for next month's 25th Anniversary Edition of Michael Jackson's Thriller contains lots of fluffy commentary by Mary J. Blige, Wyclef Jean and Pharrell Williams, as well as some interesting tidbits from Quincy Jones.

THIS WEEK'S NEW RELEASES:

If you love Lily Allen, then Kate Nash's Made Of Bricks will be right up your alley. The 19-year-old Irish singer and her annunciated accent finally wash onto American shores this week, after having a major U.K. smash last year with "Foundations."
Sia's third studio release, Some People Have Real Problems, via Starbucks' Hear Music label. The album contains "Day Too Soon," which was initially put out in EP form last fall.
"The Silence Between Us," a new single from former Hüsker Dü and Sugar frontman Bob Mould.
The World's Top DJs compilation from dance label Ultra. If you haven't already, be sure to check out the retro-rave-y "I Found U" by Axwell.