I wrote about the beating death of Aaron "Shorty" Hall of Crothersville, Indiana last June. Hall was attacked and fatally assaulted after allegedly propositioning 19-year-old Garret Gray and 18-year-old Coleman King. Crothersville is a southern Indiana town halfway between Indianapolis and Louisville.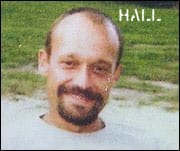 Daily Kos wrote at the time that Gray and King "were so freaked out when 'propositioned' by Aaron Hall on April 12th, that they proceeded to beat the 100 pound, 5'4 man for hours, using their fists, boots, dragging him down a staircase while his head slammed into each step, and then throwing him in a ditch and leaving. Aaron managed to crawl out of the ditch and out into a nearby field, where he died, alone and naked."
Mainstream media hardly noticed.
Today it was reported that Gray admitted to voluntary manslaughter under a plea agreement: "The agreement calls for Gray to serve a 30-year prison sentence and dismisses a charge of murder, which carried a potential sentence of 45 to 65 years upon conviction."
Gray's accomplice King pleaded guilty under identical terms and will be sentenced at the end of the month.
According to the Courier-Journal, "A third defendant, James Hendricks, 21, still faces a charge of assisting a criminal for allegedly helping Gray and King dump Hall's body…Hendricks drove Gray's truck while the other two continued beating Hall in the bed of the pickup until they dumped him in a ditch, the affidavit said. The document said the men went back days later, wrapped the body in a tarp and put it in an outbuilding at Gray's house, where police later found it."

2nd man guilty in fatal beating [courier journal]
Previously
Indiana Hate Crime Ignored as Killers Prepare 'Gay Panic' Defense [tr]