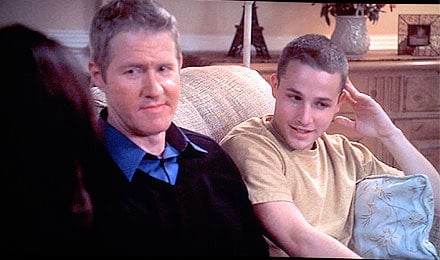 [[SPOILERS]]
According to Desperate Housewives' "gay math" the guy on the left above is a 3 out of 10. Harsh.
What does that make creator Marc Cherry?
The final episode filmed before the writer's strike aired last night. In it, Bree attempted to pimp out Andrew (Shawn Pyfrom) by coercing him with a flat screen television to cock-tease her contractor so he would repair her home which was damaged by the recent tornado.
Said Tuc Watkins, who plays one half of Wisteria Lane's gay couple, when the series began: "Marc should be applauded for creating gay characters who aren't issue-oriented. A lot of the time, gay characters are known through issues — coming out or health problems. There are a few cliché gay jokes on Desperate Housewives. But Bob and Lee aren't stereotypical. They have horrible taste. They have a sense of humor. They're a little mean. They're certainly not PC."
You may have missed…
Actor Shawn Pyfrom on Playing Gay [tr]
Desperate Housewives Takes on Circumcision [tr]
Marc Cherry on Desperate Housewives' New Gay Couple [tr]