Village Voice columnist Michael Musto added his voice to the blogosphere yesterday, with an opening post of The Daily Musto focusing on out singer Ari Gold.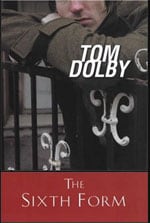 Today he takes on novelist Tom Dolby, author of The Trouble Boy, which Dolby dished about with Towleroad upon its paperback publication in 2005.
Dolby told Musto about his new tome, The Sixth Form:
"For years after The Trouble Boy, whenever people heard I was writing a novel set at boarding school, I think they assumed lots of salacious sex and boys romping in gang showers after the lacrosse game. But this is more realistic. (Sadly, I never had any sex while at prep school.) It's still gothic, sexy stuff, boys stealing kisses in graveyards, pot-fueled fantasies—though the main character, a senior in high school, is actually straight. His best friend, though (who—plot spoiler—does turn out to be gay), has a mother who's a big fag hag and has his first sexual experience with a very hot guy 10 years his senior. All in all, I think there should be plenty to keep all my gay fans happy, though the book primarily takes place in the uptight, WASPy world of a New England prep school. Then again, what could be more gay than that?"
We welcome Michael to the neighborhood.
Previously
Tom Dolby's West Village Writing Lair [tr]