Barack Obama wins 'Democrats Abroad' primary 65.6% to Hillary Clinton's 32.7%. DailyKos: "That's 11 in a row for Obama (including the Virgin Islands)! There are 7 pledged delegate-equivalents to be awarded, in addition to 4 superdelegate-equivalents."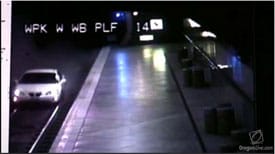 4 am Drunk driver in Portland somehow drives onto underground MAX mass transit system, drives for a mile before being stopped.

UEFA Footballer Cristiano Ronaldo 'dazzled' by laser beam at Lyon's Stade Gerland: "Red Devils boss Sir Alex Ferguson has revealed the club has contacted European football's governing body with a view to having the matter looked at more closely in the form of television pictures from the Champions League tie. 'We reported the matter to Uefa before the game,' Ferguson said. 'We noticed it in the warm-up and [Uefa] are aware of it.'

Gay Irish poet Cathal O Searcaigh cut from curriculum over teen sex scandal: "Education Minister Mary Hanafin said yesterday that there were "difficulties" with the inclusion of his poems on the exam curriculum. She said the issue will be examined by the body which decides which poems should be on the curriculum, the National Council on Curriculum Development. Mr O Searcaigh is the subject of a controversial documentary 'Fairytale in Kathmandu', in which the gay writer admits having sex with some of the male teenagers being financially supported by him in Nepal. Yesterday he announced he is to distance himself from any future distribution of charitable funds in Nepal."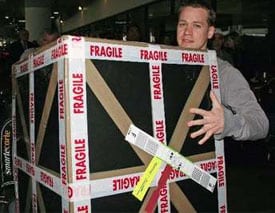 If that's T.R. Knights 'dick in a box', I'm impressed!

More on State Representative Jason Bartlett, who came out of the closet and is now the first openly gay African American state legislator: "It does feel kind of weird to be the first African American state legislator in the United States to come out but it is what it is. It's all about being comfortable with yourself. I mean, certainly, I am not the first gay African American legislator but I am the first to come out and say I am gay."

Actress Emily Perry, who played Dame Edna Everage's 'bridesmaid' Madge Allsop for many years, has died at the age of 100: "Perry appeared on Dame Edna's ITV star-studded shows and travelled the world as part of comic Barry Humphries' stage spectaculars. Humphries told the BBC: 'It is a great loss to me, she was a close friend.' The actress appeared in the Dame Edna Experience, a comedy chat show which attracted a whole host of UK and Hollywood names, from 1987 to 1989. As New Zealander Madge Allsop she never uttered a word, and her main function was to affix badges to star guests – and bear the brunt of Dame Edna's savage comments."

San Francisco holds vigil for slain gay junior high student Lawrence King.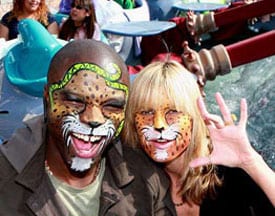 Heidi Klum and Seal get catty.

AfterElton talks to gay Survivor: Micronesia contestant Chet Welch, who also happens to be the most successful Miss America pageant coach: "I've always been open in my area. I've always been even though I grew up in a rural farming area of Pennsylvania. Truthfully, I've never had an issue in my life about being gay. If people had an issue, I wasn't really aware of it, or if they did, I figured that was their problem not mine. I do hope in some way I'm able to encourage other people that way, as well as I was hoping to show people that might have homophobia or issues with it in some way that it's not what it's sometimes portrayed to be."

Dominic Monaghan joins Hugh Jackman in X-Men: Wolverine as 'Beak'.

Survey of 100 gay porn actors finds lack of education and information about on-set HIV risk: "Almost 30% of gay adult industry performers in the survey were either HIV positive or didn't know their status. While most were comfortable working with HIV positive performers, many were concerned about the lack of discussion surrounding HIV and STDs on set . Over 80% of performers strongly agreed or somewhat agreed that condom-using studios provided adequate safety measures to protect them from HIV, but little more than half of the respondents felt that the they were being protected adequately from non-HIV risks like hepatitis, HPV or syphilis."