The California Supreme Court recently announced that it would hear arguments related to a long-pending same-sex marriage case on March 4th. This, of course, has lit the fire under the asses of "pro-family" groups who have again set out to get a measure on the ballot that would ban it: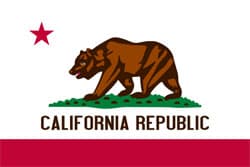 "The groups, ProtectMarriage.com and VoteYesMarriage.com, have filed ballot language with the California Secretary of State that would, if approved by voters, amend the California Constitution to limit marriage to one man and one woman regardless of how the Supreme Court rules. They have until late April to gather signatures from 694,354 voters to qualify the measures for the November election and have begun circulating petitions, fundraising and recruiting volunteers through Southern California churches."
Efforts to get a similar measure on the ballot in 2005 failed as they weren't able to collect enough signatures, but advocates say they are now better organized and funded.
According to the AP: " By enshrining the two laws that already prevent gays from marrying in the state Constitution, both amendments would overrule the justices if they decide the current statutes are an unconstitutional violation of the civil rights of same-sex couples. The court is expected to issue it's ruling by early June. The VoteYesMarriage initiative would go a step further, however, by prohibiting the state from granting gays the spousal rights and tax benefits of marriage, as it already has by allowing gays to register as domestic partners. If it passed, those rights would be eliminated."
California groups aiming for gay marriage ban amendment [ap]