A group of As the World Turns fans have started an online campaign aimed at the show's producers and Procter and Gamble claiming that CBS treats the love between gay characters Luke and Noah differently than it treats the heterosexual couples on the show. While the show has presented a groundbreaking storyline, fans say that while heterosexual couples are given graphic love and kissing scenes, Luke (Van Hansis) and Noah's (Jake Silbermann) affection takes place mainly off-screen, and passionate kisses are few and far between.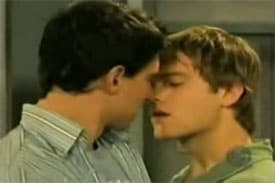 The L.A. Times reports:
"It all started last Christmas, when Luke and Noah, the young gay couple on 'As The World Turns,' were about to kiss. Though fans had seen them kiss before, this time the camera panned up to the mistletoe. Over the next few months, while heterosexual couples were kissing, Nuke (as fans call the couple) was restricted to holding hands, playing with one another's neck scarves and sharing meaningful looks. Ensuing complaints of discrimination to CBS and the show's producer and sponsor, Procter & Gamble, had no effect. And the last straw apparently arrived on Valentine's Day, when every other couple but Nuke shared a kiss. They hugged instead. Online fans began a nationwide media blitz on Feb. 20 to bring attention to the show, which has been twice nominated for an award from the Gay and Lesbian Alliance Against Defamation (GLAAD). 'Presenting a gay couple on television only to relegate them to insulting hugs and slaps on the back is the 21st century version of putting African Americans on the back of the bus,' wrote one disgruntled fan named Tony. 'We're simply supposed to be happy that we got the ride at all. This is 2008, and yet CBS and Procter & Gamble are clearly stuck in the past.' GLAAD media spokesman Damon Romine agreed with them that, 'while tremendous strides have been made on soaps, it's clear that we're not at a place where gay and transgender people are treated the same on daytime as they are on prime-time or cable.'"
AFTER THE JUMP, a fan-created video called "Luke and Noah: (A Distinct Lack Of) Passionate Kisses" set to "Passionate Kisses" by Mary Chapin Carpenter.
The fan who created this video wrote on its YouTube page: "This is a protest video of sorts for the way that Luke and Noah have been treated on As the World Turns. The show's continued intimation that affection between two gay guys in love is shameful is itself shameful. I chose this song because the lyrics say it all, whether they are construed as being from one boy to the other or from the fans to the show."
Support Luke and Noah [official site]
Soap fans claim bias against gay characters [la times]
Previously
As the World Turns to Get First Teenage Gay Kiss [tr]
Towleroad Guide to the Tube #160 [tr]
Towleroad Guide to the Tube #159 [tr]
Towleroad Guide to the Tube #150 [tr]
Towleroad Guide to the Tube #141 [tr]