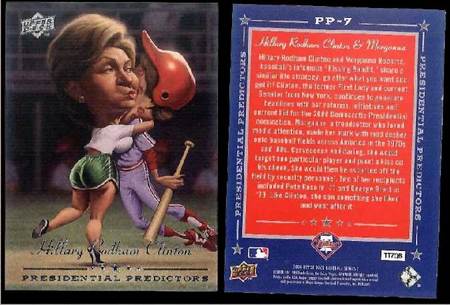 The Upper Deck company recently produced a set of "Presidential Predictor" baseball cards featuring presidential candidates and other political figures, tying each to a famous (or somehow, pivotal) figure in baseball.
Pictured below are Barack Obama as a White Sox fan, John McCain as Ted Williams, and former candidates John Edwards as Archibald Wright "Moonlight" Graham and Rudy Giuliani as baseball-deflecting fan Jeffrey Maier. More explanation here.
Upper Deck has apparently pulled their likeness of Hillary Clinton (above) from the deck, although at least one slipped through, and it's now up for sale on eBay.
Says the description:
"Hillary Rodham Clinton and Morganna Roberts, baseball's infamous 'Kissing Bandit,' share a similar life strategy: go after what you want and get it! Clinton, the former First Lady and current Senator from New York, continues to generate headlines with her reforms, initiatives and current bid for the 2008 Democratic Presidential nomination. Morganna, a trendsetter who loved media attention, made her mark with mad dashes onto baseball fields across America in the 1970s and '80s. Curvaceous and daring, she would target one particular player and plant a kiss on his cheek. She would then be escorted off the field by security personnel. Two of her recipients included Pete Rose in '71 and George Brett in '79. Like Clinton, she saw something she liked and went after it."
Said an Upper Deck spokesperson: "Our goal with the program was to have fun and be entertaining and not to be offensive. There was some concern by some of the people that it might be offensive, and we didn't want to go down that path. So we pulled the card."
The big-breasted depiction of Clinton, in shiny short shorts, has a current bid of $2000.
Here are a few of the other cards: