The Bay Area Reporter interviews Dustin Lance Black who wrote the script for Milk, the Gus van Sant biopic about the slain civil rights supervisor, who, if you're a regular reader here, you've already heard much about.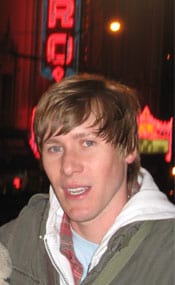 Says Black: "When I was in high school, we moved from Texas to Salinas, California. My stepdad had been transferred to Fort Ord. I started getting into theatre and acting, working at The Western Stage down in the Salinas-Monterey area, coming up [to San Francisco] for TV auditions, and getting to know, for the first time in my life, out gay men. It was the late 80s, early 90s, it wasn't a hopeful time in San Francisco. The one story of hope you did hear was about Harvey Milk, this one man who accomplished so much in a short period of time, and was really the charismatic leader that people were looking for when I was here. In college, when I first saw a copy of the documentary [The Times of Harvey Milk], I remember just breaking down into tears. I thought, 'I just want to do something with this, why hasn't someone done something with this?'…Texas kept me very quiet. I became intensely shy, I had thoughts of suicide. I was a pretty dark kid, because I had an acute awareness of my sexuality, and was absolutely convinced that I was wrong. In his Hope Speech, Harvey Milk says, 'There's that kid in San Antonio, and he heard tonight that a gay man was elected to public office, and that will give him hope.' And when I first heard that speech, it really did that. It really, really gave me hope, for the first time."
Much more at the Reporter.
How He Got Milk [bay area reporter]
Previously
Josh Brolin on Tackling the Role of Milk Assassin Dan White [tr]
James Franco Hangs on to Milk Mustache [tr]
Milk in Action on Castro Street [tr]
Sean Penn and James Franco as Lovers in Milk [tr]
Milk: The Transformation of Castro Street [tr]