A new report to be released on Tuesday sheds light on New Jersey's civil union laws and concludes that they do not go far enough in providing equality to the state's citizens: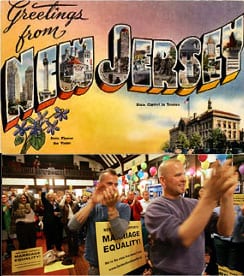 "The commission held three public hearings last year where the majority of the testimony came from people who were in civil unions and said they were still not being treated the way married couples are by government agencies, employers and others. For instance, the commission finds that many companies in the state that are self-insured, and therefore are regulated by federal rather than state law, refuse to provide health insurance to the partners of their employees. While employers in Massachusetts could legally do the same thing, most do not, according to the report. The commission also finds that many people in the state do not understand civil unions. 'Civil union status is not clear to the general public," the report says, "which creates a second-class status.' The commission's report says the misunderstanding of civil unions makes it more difficult for a child to grow up in New Jersey with gay parents, or to be gay themselves."
According to New Jersey's Health and Senior Services Department, 2,329 couples had registered for civil unions as of the end of January.