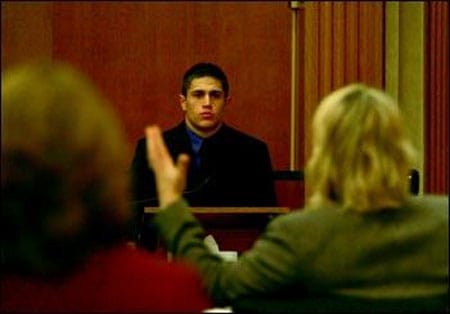 Nick Yordi, a quarterback at Iowa's Wartburg College, testified in his disorderly conduct trial last Thursday that he was just being a "dumb college kid" when he used a homophobic slur against an openly gay student at the college last fall:
"Yordi testified he sometimes yells at pedestrians for amusement and said he didn't immediately recognize Joe Apel of East Dubuque, Ill. Apel, a junior at Wartburg, described himself as openly gay. Yordi said he was not aware of that fact. 'Didn't mean anything by it,' Yordi said. 'Never have. Just getting a good laugh out of it.' Jill Dashner, assistant attorney for Bremer County, argued the extent of Yordi's alleged remarks and circumstances leading up to the incident amount to a serious situation that cannot be written off as harmless, college-boy antics perpetrated by the quarterback of the football team. She added Yordi targeted Apel, who claims the defendant let loose a stream of vulgar words referencing homosexual acts. 'This is the type of thing that causes people great stress and anger and could actually cause a violent reaction,' Dashner said."
Yordi's disorderly conduct charge is a misdemeanor and carries a potential penalty of up to 30 days in jail and a $625 fine. The judge is expected to rule within thirty days.
Magistrate will decide case involving anti-gay slur at Wartburg [wcf courier]