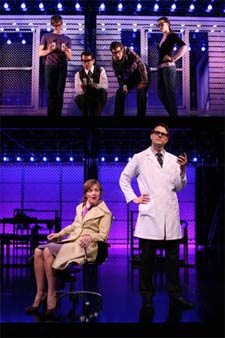 When the show first started I was rolling my eyes a bit at the campiness of it all, but the campiness is a way of seducing you into the very difficult subject that begins to unfold and envelope you with a sureness and finesse so seldom witnessed in a musical. Much of this is to the credit of Greif and Sergio Trujillo, who is billed not as the choreographer but the musical stager. Such precision is the cornerstone of this production. The Company-like set is by Mark Wendland and the searing lighting design is by Kevin Adams. Jeff Mahshie has costumed the characters with a chic simplicity. The pitch-perfect musical direction is by Mary-Mitchell Campbell. The songs have been beautifully orchestrated by Michael Starobin and Tom Kit. Music coordination is by Michael Keller. And the sound design is by Brian Ronan. I have made a point of mentioning all of them because their contributions combine so seamlessly to create this sensation of a show, one that left me — I am not embarrassed to admit — drenched in tears by its end.
I am amazed that I left the show so overwhelmed by it because last year I almost walked out of High Fidelity, the ear-piercing mess for which Tom Kitt wrote the music last year on Broadway. It was one of the worst experiences I have ever had sitting through a musical. I only stayed for the second act because I had a teenage nephew with me who seemed to be enjoying it. But Kitt has composed a carefully crafted score that hews closely — dangerously close at times — to the emotions being so expertly explored in Next to Normal. It is a breakthrough work for him and for his librettist and lyricist, Brian Yorkey.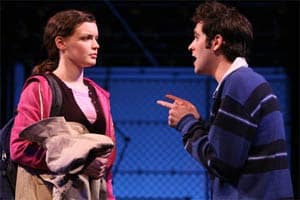 I am hesitant to tell you the story of the show since I think you should go and discover it for yourselves. Secrets are revealed in the narrative. I don't want to spoil them for you. It is an exploration of the depths of mental illness in one woman's life — let's leave it at that — and how that illness affects her family. Alice Ripley as Diana, the woman who is ill, is giving a brilliant performance, the kind of performance those of us who saw her in Side Show have been waiting for her to give for years. At the matinee I saw, Ripley was obviously fighting a cold and yet her difficulty in singing the role added yet another heartbreaking aspect to her performance. She should win every award given for a lead actress in a musical this year. Brian d'Arcy James, as her husband Dan, is both touching and tough and sings his heart out. Jennifer Damiano, the sixteen-year-old who plays their daughter, emotionally limns her role with a much older actress's acumen. Adam Chanler-Berat, who plays her stoner boyfriend, is able to convey for us his sweetness without seeming treacly. Asa Somers, portraying Diana's two doctors, is both officious and funny at the same time. And Aaron Tviet, who plays Diana's and Dan's son Gabe, not only possesses a gangling sexiness but sings like an angel.
Next to Normal is scheduled to close March 9th. I'm sure it will split critics right down the middle. Some will ridicule its aspirations. Others, like me, will laud them. I loved this show. And, as one person who knows how hard it is to heal when haunted by the presence of lost loved ones, I am grateful for it.
T T T T (out of 4 possible T's)
Next to Normal, Second Stage Theatre, 307 W. 43rd Street, New york. Ticket information here.
Recent Theatre Reviews
On the Stage: The 39 Steps and Almost an Evening [tr]
On the Stage: Is He Dead? and The Little Mermaid [tr]
On the Stage: Holiday Fare — The Drowsy Chaperone, West Side Story, Xanadu and The Color Purple [tr]
On the Stage: Doris and Darlene and The Homecoming [tr]
On the Stage: The Seafarer and August: Osage County [tr]