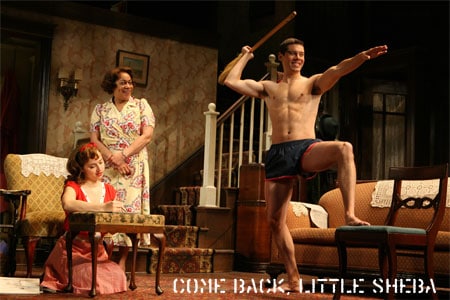 Please welcome Kevin Sessums, who last looked at The 39 Steps and Almost an Evening for Towleroad. You can also catch up with Kevin at his own blog at MississippiSissy.com.
Two recent productions have opened — one on Broadway, one off-Broadway — that deal with family dysfunction and the disparate ways it can bubble to the surface and emotionally scald those who find themselves wading, as it were, hip-deep in the midst of it.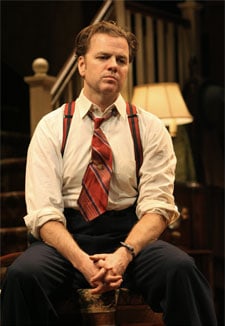 One concerns alcoholism and 12 Step Programs and is imbued with a kind of elegiac loss. The other delves deeply into pharmacologic dependence and electric convulsive therapy and is saturated as much with a sense of elegiac wonder as it is with its own brand of sadness. One is set in 1950, the other in 2008. And though the narrative impetus of each is the death of an infant and the central character of each is an emotionally disturbed wife, one production is an old warhorse by William Inge and the other a new musical directed by Michael Greif.
The Manhattan Theatre Club's production at the Biltmore of Inge's Come Back, Little Sheba stars S. Epatha Merkerson as Lola, the wife of the alcoholic chiropractor she calls Doc, who is portrayed by Kevin Anderson. The play deals with their barren marriage, which is enlivened by the purposeful and boy-crazy coed who boards with them. Shirley Booth, before she became known as the maid Hazel in the eponymous television series, won both a Tony and Oscar for the role of Lola and, I admit, it's hard to shake Booth's indelible impression as the inappropriately girlish and maddeningly garrulous lady-of-the-house.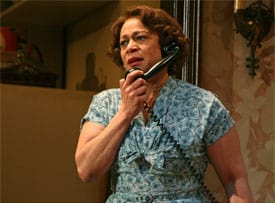 It saddens me to say that Merkerson's oddly stilted and emotionally stunted performance didn't help erase Booth from my mind since I've been a fan of Merkerson's for years, not only for her portrayal of Lt. Ann Van Buren in television's Law and Order but also for her performances in, among others, Birdie Blue, The Piano Lesson, F**cking A, and Lackawana Blues. Though her performance in Come Back, Little Sheba has been acclaimed by both the New York Times and The New Yorker by two reviewers I admire — Ben Brantley and Hilton Als — I was left unmoved by it. In fact, I found it grating — though I will grant that it might have been her bravely choosing to highlight the character's own grating qualities that I found so irksome. At times, however, it seemed the odd staccato coquettishness of her portrayal caused less a sensation of watching a repressed sensualist than a too amply pleasant simpleton. Anderson, giving a beautifully buttoned-down performance, did manage to shake her — and, in turn, me — free of the studied stupor of her portrayal during the play's climactic drunk scene in which he viciously attacks her.
I am a big proponent of color-blind casting in almost every case. But in this one, I would be remiss if I didn't confess — okay, let the comments commence — it brought up unanswered dramatic questions for me. The fact that Merkerson, as an African American woman, is married to a preppy white man in the midwest of 1950 would, one presumes, cause some dramatic elements to surface in the play. To ignore the societal and extra emotional issues that such a marriage would entail in 1950s America — in a play that is about a troubled marriage to begin with — did not make dramatic sense. Inge certainly never set out to write a political play in his life. All his work is small-bore in its piling on of domestic details to wring some sort of dramatic payoff in his plays.
The rest of the cast was up to the tasks at hand, which in an Inge play can often mean fleshing out stereotypes. Two standouts are Zoe Kazan, as Marie the boarder, who is still young enough to be slightly confused by her effect on others yet old enough to realize the power of that effect, and Brian J. Smith, as her temporary boyfriend Turk, who literally fleshes out his role when he poses in his gym shorts for Marie to sketch him as he holds a javelin. Inge, who was gay and is said to have been as sexually repressed as many of his characters, was certainly not repressed when it came to sexual imagery.
The production was directed by Michael Pressman with a workmanlike aplomb, which is the incongruous description I would use for Inge's own aesthetic. The set by James Noone served such an aesthetic. But it was the exquisite lighting design by Jane Cox that added a kind of poetic nuance to the play's heart-rending dreariness.
T T (out of 4 possible T's)
Come Back, Little Sheba, Biltmore Theatre, 261 West 47th Street, New York. Ticket information here.
***
NEXT TO NORMAL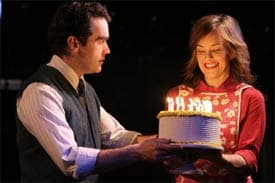 There is nothing dreary about Next to Normal, the new musical at Second Stage on 43rd Street, but it is certainly heart-rending. A musical about mental illness may sound ridiculous — and it does walk a fine line between being rather ridiculous and daringly moving. I come down decidedly on the side of the latter however. Not since Rent and Spring Awakening have I been as surprised and emotionally stirred by a musical. Indeed, Michael Greif, the show's director, directed Rent as well as last year's off-Broadway hit, Grey Gardens, that had a move to Broadway. Next to Normal should make the move also. If it does, it should also win the Tony.
Continued AFTER THE JUMP…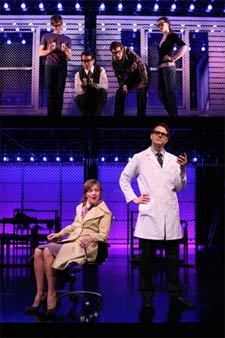 When the show first started I was rolling my eyes a bit at the campiness of it all, but the campiness is a way of seducing you into the very difficult subject that begins to unfold and envelope you with a sureness and finesse so seldom witnessed in a musical. Much of this is to the credit of Greif and Sergio Trujillo, who is billed not as the choreographer but the musical stager. Such precision is the cornerstone of this production. The Company-like set is by Mark Wendland and the searing lighting design is by Kevin Adams. Jeff Mahshie has costumed the characters with a chic simplicity. The pitch-perfect musical direction is by Mary-Mitchell Campbell. The songs have been beautifully orchestrated by Michael Starobin and Tom Kit. Music coordination is by Michael Keller. And the sound design is by Brian Ronan. I have made a point of mentioning all of them because their contributions combine so seamlessly to create this sensation of a show, one that left me — I am not embarrassed to admit — drenched in tears by its end.
I am amazed that I left the show so overwhelmed by it because last year I almost walked out of High Fidelity, the ear-piercing mess for which Tom Kitt wrote the music last year on Broadway. It was one of the worst experiences I have ever had sitting through a musical. I only stayed for the second act because I had a teenage nephew with me who seemed to be enjoying it. But Kitt has composed a carefully crafted score that hews closely — dangerously close at times — to the emotions being so expertly explored in Next to Normal. It is a breakthrough work for him and for his librettist and lyricist, Brian Yorkey.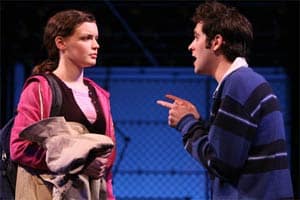 I am hesitant to tell you the story of the show since I think you should go and discover it for yourselves. Secrets are revealed in the narrative. I don't want to spoil them for you. It is an exploration of the depths of mental illness in one woman's life — let's leave it at that — and how that illness affects her family. Alice Ripley as Diana, the woman who is ill, is giving a brilliant performance, the kind of performance those of us who saw her in Side Show have been waiting for her to give for years. At the matinee I saw, Ripley was obviously fighting a cold and yet her difficulty in singing the role added yet another heartbreaking aspect to her performance. She should win every award given for a lead actress in a musical this year. Brian d'Arcy James, as her husband Dan, is both touching and tough and sings his heart out. Jennifer Damiano, the sixteen-year-old who plays their daughter, emotionally limns her role with a much older actress's acumen. Adam Chanler-Berat, who plays her stoner boyfriend, is able to convey for us his sweetness without seeming treacly. Asa Somers, portraying Diana's two doctors, is both officious and funny at the same time. And Aaron Tviet, who plays Diana's and Dan's son Gabe, not only possesses a gangling sexiness but sings like an angel.
Next to Normal is scheduled to close March 9th. I'm sure it will split critics right down the middle. Some will ridicule its aspirations. Others, like me, will laud them. I loved this show. And, as one person who knows how hard it is to heal when haunted by the presence of lost loved ones, I am grateful for it.
T T T T (out of 4 possible T's)
Next to Normal, Second Stage Theatre, 307 W. 43rd Street, New york. Ticket information here.
Recent Theatre Reviews
On the Stage: The 39 Steps and Almost an Evening [tr]
On the Stage: Is He Dead? and The Little Mermaid [tr]
On the Stage: Holiday Fare — The Drowsy Chaperone, West Side Story, Xanadu and The Color Purple [tr]
On the Stage: Doris and Darlene and The Homecoming [tr]
On the Stage: The Seafarer and August: Osage County [tr]