Pentagon will shoot down disabled satellite before it poses danger to Earth: "U.S. officials said Thursday that the option preferred by the Bush administration will be to fire a missile from a U.S. Navy cruiser, and shoot down the satellite before it enters Earth's atmosphere. The officials spoke on condition of anonymity because the options will not be publicly discussed until a later Pentagon briefing. The disabled satellite is expected to hit the Earth the first week of March. Officials said the Navy would likely shoot it down before then, using a special missile modified for the task."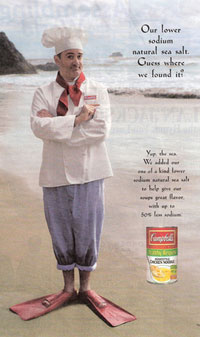 Does Mike Huckabee have a new job shilling soup for Campbell's?

Check out the brand new trailer for the new Indiana Jones flick which has something to do with aliens and Roswell, New Mexico.

The Year of Paper: Documentary on three couples and their first year of marriage airs tonight in San Francisco. "First-time filmmakers Kelly Rouse and Nikki Parker explored the lives of three couples – two men, two women and a heterosexual pair – during their first year of marriage. The resulting film… goes into the history of marriage as well as the lives of the subjects. The filmmakers interview scholars, legal experts, clergy and activists from both sides to understand what marriage means in America today."

More Wentworth: A preview of the Prison Break finale.

Obama's delegate lead shifts focus of Clinton campaign: "With every delegate precious, Mrs. Clinton's advisers also made it clear that they were prepared to take a number of potentially incendiary steps to build up Mrs. Clinton's count. Top among these, her aides said, is pressing for Democrats to seat the disputed delegations from Florida and Michigan, who held their primaries in January in defiance of Democratic Party rules."

Senior DOJ official who authorized waterboarding now says it's illegal.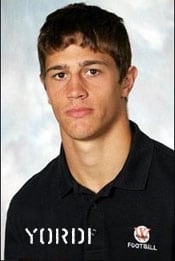 Nick Yordi, former starting quarterback for Wartburg, College in Waverly, Iowa in court on disorderly conduct charge for anti-gay slur: "The trial was scheduled to begin at 9:00 a.m. at the Bremer County Courthouse. Nick Yordi, a sophomore from Solon, was arrested for yelling those slurs at another student on campus October 9th, 2007. Yordi has pleaded not guilty, and has played in two football games since his arrest." GLAAD: "According to the Wartburg Trumpet, Yordi was 'charged under a section of the Iowa Code that prohibits making abusive epithets or threatening gestures which are likely to provoke a violent reaction by another.' Wartburg College President Jack Ohle addressed the school Oct. 22 through e-mail and wrote, 'Understandably, matters that come within the college's purview are dealt with immediately and privately with the parties affected through a prescribed process and according to the student handbook, honor code and the appropriate faculty and staff handbooks.'"

Former gay Arizona Rep. Steve May to get back into politics, running for seat vacated this year by Rep. John Shadegg: "This is a great time for a Republican like me to get into the Republican Party to bring it back to the values that win."

Who knew the Hilton family still had up-and-coming drunk drivers?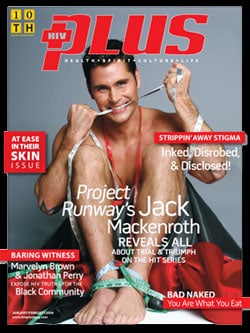 Project Runway's Jack Mackenroth talks to HIV+ magazine: "I think people have become apathetic–because you can see people like me. I look really good. I take really good care of my body. I think I look good for my age. And I certainly look good for someone who's been HIV-positive for going on 18 years. But don't let that fool you. Having HIV is still not fun. I have to take my pills wherever I go. It's still not a picnic. I run into people all the time who are like, 'Well, you don't look sick.' What the hell does that mean! That's so stupid! Young people now aren't educated like they used to be. I think it's really shocking. I had a partner die. He was 250 pounds! He was a huge, hulking guy. He never found a regimen that worked for him. He constantly had intestinal problems. We were out on Fire Island, and he said, 'I don't feel good.' We went back to New York, he checked into the hospital, and he was dead two weeks later."

Chippendale dancers visit The View.

Va-jay-jay chat: Meredith Vieira giggles nervously as Jane Fonda drops the word c*nt on TV.

Legislation floated that would allow same-sex married couples to divorce in Rhode Island: "The state's highest court ruled in a 3-2 decision in December that a lesbian couple who married in Massachusetts could not get divorced in their home state of Rhode Island. Supporters of the bill say it makes no sense to require people to remain married when they have no desire to do so. But the legislation is expected to face opposition from Gov. Don Carcieri and many other lawmakers."

Gay couples share their stories of romance.