No doubt you've been on the edge of your seat waiting for news about this.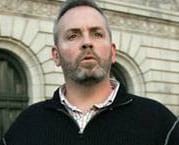 A federal appeals court upheld Survivor winner Richard Hatch's tax evasion conviction last week, saying that although Hatch claims that he struck a deal with producers that they would pay the tax on his winnings if he kept his mouth shut about other contestants' alleged cheating, Hatch was given opportunities to testify about the deal, which he never used.
Hatch's attorney claims he was never given the opportunity.
Said the court: "The failure of Hatch to present any evidence of such conversations when invited by the court strongly suggested that no actual promises were made, and no such 'deal' actually existed…It was not the court's right, much less duty, to put words in Hatch's mouth."
Hatch continues to serve his four year, three month sentence and is due for release in October 2009.
(via reality blurred)