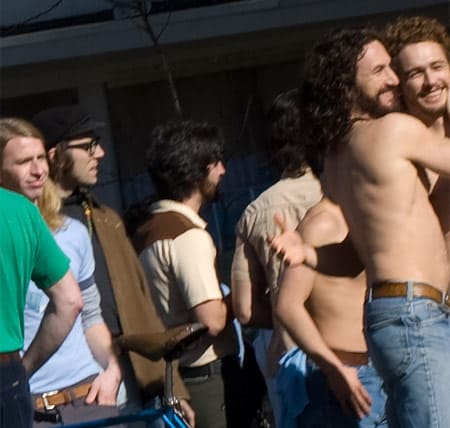 Flickr user Troublepup shot these photos of Penn as Milk and James Franco as his lover Scott Smith while they were shooting a scene in the Castro. Via Observd, where you can find more. Loving the 70's vibe, man.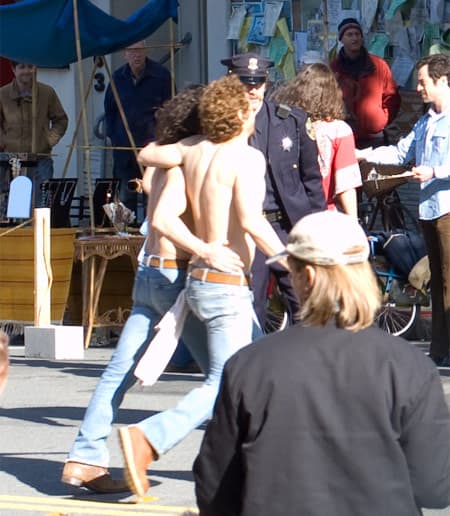 Via SFist comes this shot of Sean Penn during last night's filming of a rally scene in Milk just outside the Castro Theatre. It's one of several march scenes to be shot.
Here, Penn holds a megaphone and shouts instructions to the crowd. You can see an even larger version of it at SFist. The Castro marquee hasn't looked like that in a while!
Blogger Jeff Walsh writes about his experience working as an extra in this crowd scene: "So, in the first scene, the crowd is milling around Castro and Market, after an anti-gay ruling in Anita Bryant's campaign had passed successfully. As we are angry but aimless, Sean Penn (looking pretty damn convincing as Milk, btw) jumps up onto a platform with a bullhorn, says a few words, and then jumps into the crowd, channeling our frustration into a march to City Hall (or, in movie terms, half a block down the street)…."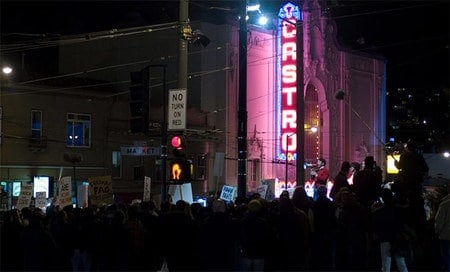 Castro Shopper has a great wrap-up of storefronts on Castro Street which have been altered for Milk.
GayCities recently posted this shot of Penn and Emile Hirsch, who plays activist Cleve Jones in the film: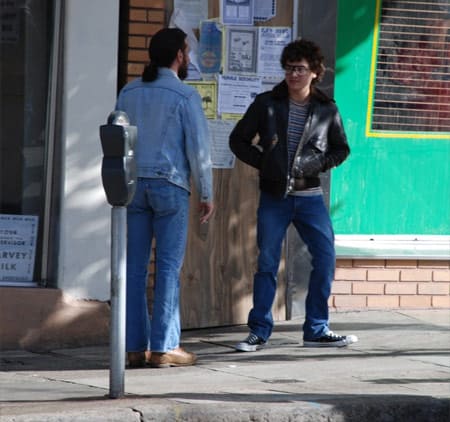 Not too long ago Penn was directing Hirsch in Into the Wild. More at GayCities, including some shots of Gus van Sant doing the filming.
Finally, a couple shots of Sean Penn as a bearded Harvey Milk.
One on the street shot, and another campaign poster. (via /film)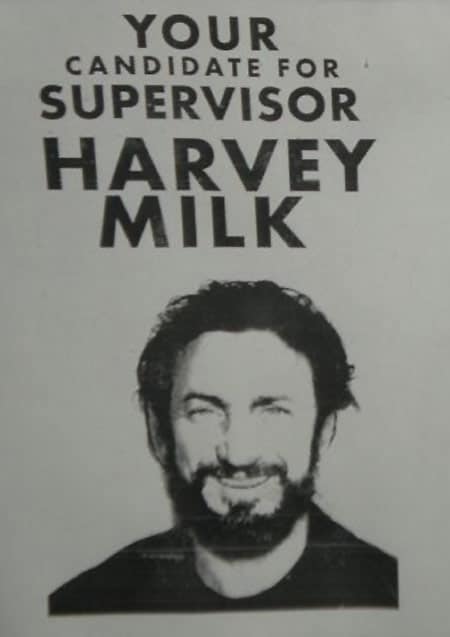 Last Friday, Assemblyman Mark Leno and Equality California announced that they were introducing a measure into the legislature that would have May 22, Harvey Milk's birthday, recognized as a non-fiscal state holiday.
Said Leno: "Harvey Milk was a true American hero. He gave hope to a generation of gay and lesbian individuals whose basic humanity and freedom had been denied and dishonored. His history is our history, and a day in his honor will preserve his legacy for generations to come. 'Harvey Milk Day' will provide a forum to raise public awareness of Milk's work to extend basic human rights to all people and demonstrate that each one of us possesses the ability to create extraordinary change in our communities, our country and the world."
'Milk' shoot does the Castro good [hollywood reporter]
Previously
Milk: The Transformation of Castro Street [tr]
Extras Needed for Milk March in San Francisco [tr]
First Look at Josh Brolin as SF Supervisor Dan White in Milk [tr]
Grabeel, Luna, Smith Join Milk Cast as Production Begins [tr]
EXCLUSIVE: Victor Garber, Denis O'Hare, Stephen Spinella Join Milk [tr]
Singer's Harvey Milk Film in Jeopardy as Van Sant's Gains Steam [tr]