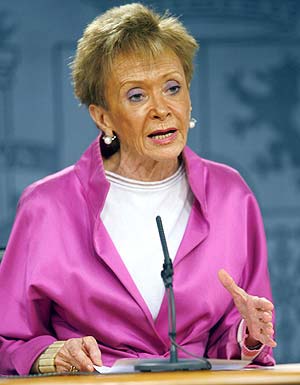 Spanish Deputy PM María Teresa Fernández de la Vega expressed relief to El Mundo newspaper that she finally had the opportunity to clear up rumors that she is secretly married to a female sportscaster:
"It's a rumor about me that they've invented to do damage, using something that – hear me – I absolutely respect. I have no homophobia. But I'm not homosexual! If I were, I would have no problem in saying so. But it's just that I'm not! I don't know her, we've never seen each other in our lives, and they have me married to her!"
She says she is extremely happy to sit on her sofa at home, alone, and listen to music.
Spanish Deputy PM: I'm Not Gay [sf bay times]