Jason Rae, the nation's youngest superdelegate who also happens to be gay and was heavily wooed by the Clinton camp, has decided to endorse Obama. Rae: "The Democratic Party is fortunate to have two very talented individuals running for President this election. It is a difficult choice for anyone, but in the end, the choice for me has become clear. I am proudly supporting Senator Barack Obama."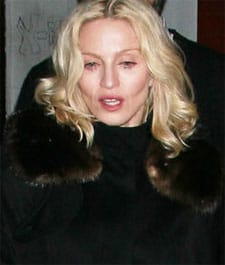 Madonna, Ashton Kutcher, Demi Moore, Eric Dane and others in Hepatitis A scare at trendy New York hotspot Socialista — told to get vaccinated immediately.

Friday Night Lights Taylor Kitsch the latest stud to join X-Men Origins : Wolverine starring Hugh Jackman.

Project Runway stars reunite, dish the dirt before season finale.

State College, Pennsylvania Mayor Bill Welch to preside at same-sex commitment ceremony of six gay and lesbian couples: "'All of them have been together for several years and are actively committed to their partners,' said [Tom] Koerber, co-director of the university Coalition of LGBTA Graduate Students. The coalition has scheduled the ceremony to coincide with the start of Pride Week, an annual week when gay, lesbian, bisexual and transgender students — along with straight allies — drum up pride in their community."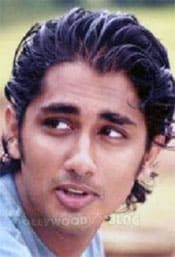 Bollywood actor Siddharth speaks out on playing gay roles: "I think we are a homophobic country and I believe the media's insensitive sensationalisation of the issue is largely responsible for this. As an actor I play roles based on reality. Sexual orientation is a natural and personal choice. I see no reason for it to affect my decision to accept a project. I have close friends who are gay, and they are as intelligent and caring as, if not more than, my heterosexual friends. I think it's time we started respecting them and giving them their much-deserved freedom to just be themselves."

Officers surprised by order to stop security screening in Dallas more than an hour before Obama took the stage: "The order to put down the metal detectors and stop checking purses and laptop bags came as a surprise to several Dallas police officers who said they believed it was a lapse in security. Dallas Deputy Police Chief T.W. Lawrence, head of the Police Department's homeland security and special operations divisions, said the order — apparently made by the U.S. Secret Service — was meant to speed up the long lines outside and fill the arena's vacant seats before Obama came on. 'Sure,' said Lawrence, when asked if he was concerned by the great number of people who had gotten into the building without being checked. But, he added, the turnout of more than 17,000 people seemed to be a 'friendly crowd.'"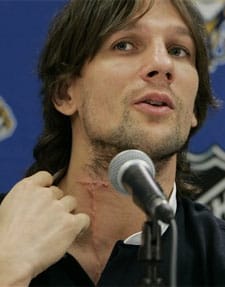 Hockey player Richard Zednik, whose carotid artery as you may remember was ripped open by a skate blade, speaks to the media: "When I saw the blood, I knew I had to get up. I got to the trainers and said it's up to them now."

Dolce & Gabbana's new collection trashed by buyers: "If I was on a blind-date and a girl answered the door dressed like that, I'd say I was gay and looking for my boyfriend's apartment."

Miami Beach prepares for annual Winter Party: "When the Task Force took over Winter Party, one of the missions was to make sure it was not just a [men's] circuit party but a series of events to reach out to . . . the entire spectrum of the community. Transgender people, LGBT [lesbian, gay, bisexual and transgender] families and youth. We don't have a pride celebration in Miami. This is about the closest thing we have to it."

29-year-old who stabbed gay man to death in public toilet in Britain appears in court: "Mr Akers, a retired accountant from Wallington, was found stabbed in public toilets in Walton Lane, just off Walton Bridge about 3pm on Tuesday. He died later in hospital. Mr Akers, from Wallington, had a male partner who he had been living with for 22 years. A postmortem examination held at the Royal Surrey County Hospital revealed the cause of death as a single stab wound to the back ."

27-year-old in Brazil ordered to pay fine of $8,500 for using 'fag' slur and throwing beer can at gay man: "It is the first time this fine is put into practice by the State since the creation of law nº 10.948 back in 2001."