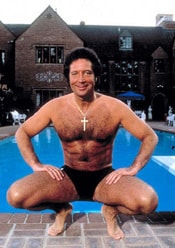 You mean in case he's attacked by a stalker with an Epilady?
Via the UK's Mirror: "So it should come as no surprise to learn that Sir Tom Jones, 67, whose mop of luxurious curly brown hair has made him a hit with the ladies, has had his chest hair insured – for the princely sum of £3.5million! Top insurance house Lloyd's of London was approached about the deal and, after initial concerns that it might prove too much of a risk, went ahead. 'Like a vintage wine, Tom just gets better with age,' says our body hair mole."
And was that last turn of phrase really necessary?