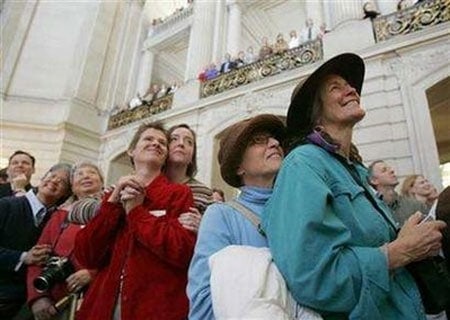 California's Supreme Court finally hears the landmark marriage equality case today in three hours of argument. It has been four years since the lawsuits were filed following the court-ordered stop to the issuance of marriage licenses to same-sex couples ordered by SF Mayor Gavin Newsom in February of 2004.
The AP reports: "In briefs submitted to the court, same-sex marriage supporters argue that California's Constitution leaves no room for denying gay men and lesbians the right to wed. While the state is one of a handful where gay couples are entitled to most of the same legal rights as married spouses, the institution of marriage is too important to allow for alternatives that are by definition inferior, they say. The state and same-sex marriage opponents maintain, however, that limiting marriage to members of the opposite sex is reasonable—not only to uphold tradition but because California voters approved a ballot initiative eight years ago bolstering the gay marriage ban that was in place at the time. To overturn that law would abrogate the rights of all Californians, they argue."
Said Geoffrey Kors of Equality California: "This will be one of the — if not the — legal landmarks in the struggle for equal rights. It will have a ripple effect not only in this country, but the whole world."
Said Randy Thomasson, president of the Campaign for Children and Families: "The justices can destroy or protect marriage. If the justices alter the definition of marriage, then the people will certainly override them at the ballot box."
The court has 90 days to rule.
Calif. justices to consider gay marriage [upi]
Gay marriage debate shifts back to California [ap]