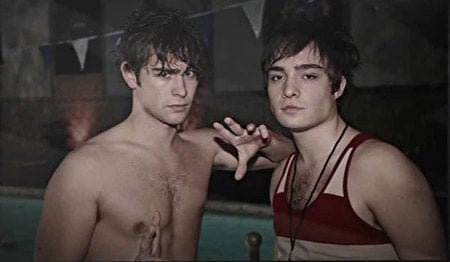 Last October, I posted an interview in which Gossip Girl's Penn Badgley expressed hope that there might be a gay Gossip Girl character in seasons to come.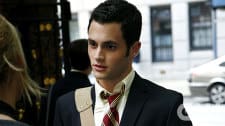 Said Badgley of his character Dan's sexuality in the novels Gossip Girl is based on: "Yeah, I think [Dan's] straight-up gay in the books. But I don't think network TV really has the balls to make one of their [teenage] series regulars gay. Let's say the show builds up to become a big hit, then I think they'd maybe explore it in year three or four. It would be an interesting thing to do. It could bring in a whole different demographic."
Well, according to TV Guide's Michael Ausiello, that may be happening much sooner:
"I'm hearing from an extremely reliable source that a male character on Gossip Girl will be revealed to be of the gay persuasion when the show returns on April 21. Who? Can't say. Won't say. It's too good a surprise. I will, however, offer five tantalizing clues.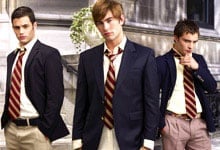 • This person may or may not be pictured [here].
• The revelation significantly impacts the lives of at least three people.
• The aftershocks will be felt on both sides of the East River.
• Some viewers will be surprised by the twist, others not so much.
• In the Gossip Girl novels, Dan was known to be a bit of a switch hitter — which isn't so much a clue as it is a fact. A misleading fact? Perhaps. Perhaps not."
While it's tempting to wish that Nate or Dan will come out, the smart money's on the young, troubled Eric van der Woodsen, played by Connor Paolo.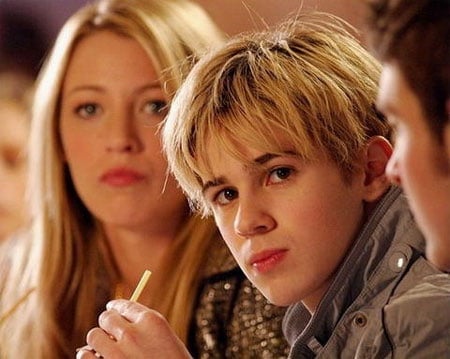 You may have missed…
Gossip Girl Guys Engage in Well-Dressed Three-way for Out [tr]
Penn Badgley and His Great Gay Hope for Gossip Girl [tr]
Nine Out of Ten Men Prefer the Taste of Chace Crawford [tr]
The Many Pre-Gossip Girl Faces of Chace Crawford [tr]