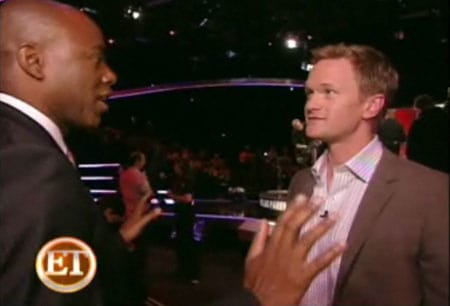 Neil Patrick Harris talked to Entertainment Tonight about Britney Spears' upcoming appearance on How I Met Your Mother.
Said NPH: "I was shocked that Madam Spears was willing to come and do some acting. She hasn't acted in a while. This is a very interesting role. It is very not like her at all in real life on any of her previous chapters. She plays the secretary to another girl that Ted is after. So, it will be very unlike any Britney we have seen before, and we have seen a lot of Britneys recently. We thankfully don't film on location so, uh, I don't think we're going to be dealing with lots of paparazzi people at the FOX lot, but here's hoping that Osama Lufti guy doesn't come and cause a stir. What if she shows up on set and she is absolutely, totally normal and that whole thing has been a big ruse? She is smoking a cigarette and [says], 'Oh yes, it is all a big bit. I've got a master plan.'"
Hopefully the part demands a British accent.
View the clip, AFTER THE JUMP (warning: autoplay)…