Sen. Fred Girod (R-Stayton) and state Rep. Sal Esquivel (R-Medford) have filed paperwork that says they intend to overturn the state's new domestic partner law, Williamette Week reports.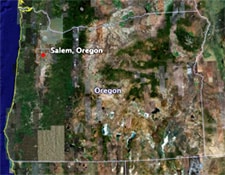 They'll need to collect nearly 83,000 signatures by July 3 to make that happen.
Basic Rights Oregon Executive Director Jeana Frazzini doesn't think it'll happen: "I don't expect that they will find the support to overturn this important law … Basic Rights Oregon will have to fight this with every resource we have. That means, in the next four to six weeks we will be working with our attorney, through the ballot title process, to ensure that the impact of this initiative is fully understood by voters. In the past their efforts were [to] deny access to rights. This time they are trying to take away the rights of fellow Oregonians."
Oregon's domestic partner law went into effect at the beginning of February, following a temporary suspension during which requests by 'pro-family' groups to look into the signature count on a failed referendum drive were considered.
Proposed Repeal of Oregon's Domestic Partnership Is Filed [williamette week]