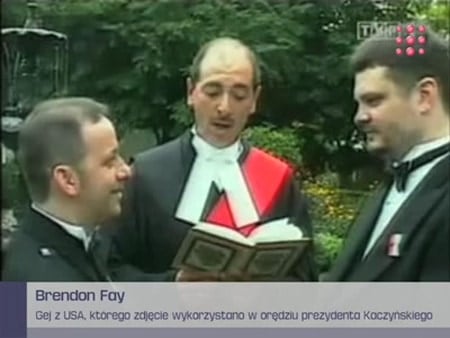 Polish President Lech Kaczynski broadcast a video of American couple Brendan ay and Tom Moulton at their wedding on Poland's national television to illustrate a presidential address he was giving warning the nation that supporting the Lisbon Treaty, which is linked to the EU Charter of Human Rights, would mean that same-sex marriage could come to Poland.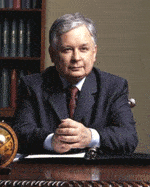 Agence France Presse reports that yesterday Fay expressed outrage that video of his wedding, which took place in Canada, was being used in such a manner. Fey told Poland's Radio Zet:
"Of course I am outraged that the president and his party would use images of Tom and I, of a very sacred moment for us as a couple. It is very sad for me when leaders of a nation such as the president of Poland urge people not to support the Lisbon Treaty because of the possibility of recognising equally same sex couples and our families. Tom and I, we are both Catholic, in fact we met at church at Sunday mass."
Polish Prime Minister Donald Tusk slammed Kaczynski as well: "To scare Poles by saying that homosexuals and Germans pose a threat to the EU is stupid, indecent, contrary to our fundamental interests and very damaging to Poland's image abroad."
View part of the clip broadcast on Polish TV here.
Fay, an activist from New York, told the AP: "My inital reaction was one of surprise and shock really. Our images clearly were being used in a campaign by the president of Poland against lesbian and gay persons, and fostering intolerance and fear among the people of Poland."
Fay submitted a letter of complaint to the Polish consulate condemning the use of his video and expressing anger that it would be used "as part of a homophobic campaign," the AP reports.
Kaczynski and his twin, the former Prime Minister, have a long history of homophobic policy. The President in February 2007, warned that gays would destroy the human race.
Gay spouse outraged by Polish president's use of wedding video [afp]
NYC man protest Polish president for anti-gay marriage speech [ap]
Previously
Homophobic, Allegedly Gay Polish Prime Minister is Ousted [tr]
Poland Censors Little Britain over Gay Kiss [tr]
Poland's PM Says More Gays are Bad for Society [tr]
Poland to Fire Teachers Who "Promote" Homosexuality [tr]
Polish President Kaczynski: Gays Will Destroy the Human Race [tr]