In the first in a series of interview clips from Josh Koll and Josh Helmin of Josh & Josh are Rich and Famous with the cast members of the upcoming Sex and the City movie, Sarah Jessica Parker reveals how she became a judge on Project Runway, and what her thoughts were about the show's winner, who was revealed last night.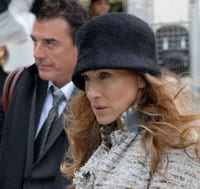 "Being a judge was the hardest secret I've ever had to keep in mylife because I shot it way last spring," said Parker. "One of my best friends in theentire world is Andrew Cohen (Watch What Happens on Bravo) and he hadasked me for a number of years to be a judge. I had always declinedbecause the best part of that show is being in the audience. And firstof all, what would I be doing there anyway? You know how people go ontalk shows and they have nothing to talk about? But then I started thisclothing line and Andy kept creating these scenarios for me to come onthe show.
For those of you who haven't seen the finale yet, we'll spare you and talk about who won, and Sarah Jessica Parker's thoughts on the winner, AFTER THE JUMP…(SPOILERS)
As many of you know, Christian Siriano was revealed as the winner last night.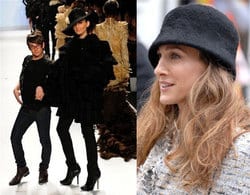 In the episode which Parker guest judged, she chose an outfit by Victorya Hong for her Bitten line. She did have some interesting words for us in our recent interview about Christian, however.
Said Parker:
"The work room is not at all what I pictured. I had it all turnedaround in my head. It's a much smaller space—television always expandsthings, for better or worse. Just being with those designers wasremarkable and seeing what they could do with fifteen friggin' dollars.
"The hardest part—and Andy will tell you this—was the judging. Ifound it very uncomfortable. I have always found that people flourishwhen you're constructive, and not snarky. I think Michael Kors isreally good—he's hardcore—he's a designer and a businessman and he cutsto the chase, but I'm just not equipped.
"The thing with Christian haunted me for days. I kept writing to Andyand said, 'You've got to tell him how much I love him,' but at the endof the day it was just not the right piece for the collection. On theshow you don't get to see all the nice things I said to Christian abouthis work. He's so talented. I really admired him, but he's also a veryintimidating young man. He's really gifted."
Sex and the City: the Movie is in theaters May 30.
Bravo TV has an interview up with winner Christian Siriano.
Below, a recent clip released by Project Runway of Christian Siriano and Tim Gunn doing a "walk-off".