Gay Kentucky couple blocked from adopting child through state's foster care system: "Phillips and Parsley said they are outraged because they had already passed a criminal background check and a home survey by a Sunrise employee who was fully aware of their living arrangement. And they have attended two of five classes required for certification through the free program, they said."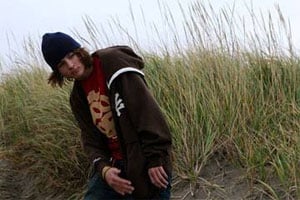 Gus van Sant on filming his new film: Paranoid Park. REVIEW: Van Sant "makes another pretty, vacant movie about pretty, vacant boys…"

Babyshambles singer Pete Doherty posts video of himself smoking a cock.

Documentary explores Florida hate crime killing of Ryan Keith Skipper.

Gay porn films pulled from sale in the UK following barebacking investigation: "Two of the DVDs featured footage from a week-long shoot during which eight British models had sex with each other in multiple combinations without condoms. Four of those who took part were diagnosed as HIV positive soon after. One of the men told the BBC he was distressed that footage which he believed showed him becoming infected had been put on sale."

Green Bay Packers Brett Favre to retire. Sportrait flashback…


Lance and Ben document their romance.

Simon Cowell to produce Billy Eliot-Style musical on Britain's Got Talent winner, opera singer Paul Potts: "That particular day was one of the worst, the acts were just terrible, we were fed up and on comes this guy with a funny little suit and bad teeth who looked very nervous. I can remember looking at the other judges, with that 'here we go again' feeling. We had 2,000 people in the audience, and I'll never forget how much the room changed when he began singing." Video Flashback…

Steven Spielberg to launch social networking site for people interested in the afterlife: "The focus will be on users who've had or who are interested in sharing paranormal and extraterrestrial experiences. The new social network may also have original video content investigating alleged ghost and UFO stories."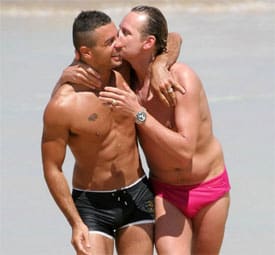 Pink Speedo down under: Carson Kressley definitely not a fashion coward.

Dallas man claims he was assaulted at Station 4 nightclub: "Sid Gonzales, 43, said he suffered two broken bones in his wrist, a puncture wound to his hand and multiple bruises on his backside when two men assaulted him at about 11 p.m. Gonzales said he was near the main dance floor of the Dallas gay nightclub when two men and a woman walked over and stood nearby. Gonzales said he was 'a little buzzed' from alcohol but not intoxicated. He said he tried to be friendly and make small talk with the trio. But he said he was not trying to hit on the men, whom he described as straight-looking, well-dressed and college-aged. When Gonzales asked a few questions, the woman responded but the men said nothing and looked uncomfortable, he said. Gonzales said he reached out to shake hands with one of the men. The man grabbed Gonzales' arm, twisted it in the air and slammed it against a knee. Gonzales said the first man also stabbed him in the hand with an unidentified object, while the second began kicking him in the backside."

American Idol contestant Danny Noriega wishes you a Merry Christmas.