A Tel Aviv Court, which noted in its sentencing that the case was "one of the most vicious cases brought before this court," sentenced four young men to two to eight years in prison for robbing and assaulting young gay men in the city's old central bus station, Ynet reports: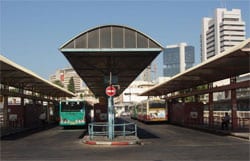 "According to the indictment, in January 2007, the four scoured the station's area for men seeking to rendezvous with other men, going as far as to place one of them as a decoy. Around 4:30 am, one of the plaintiffs fell for the scam, picked up the man posing as a decoy in his car, and the two made their way to a nearby car park. Once inside the car park, the indictment continued, the three other assailants found the two. The plaintiff – sensing danger – tries to escape – but the four began beating him, ordered him to strip naked and robbed him, taking off with his clothes, his money and his car, which contained his cell phone and laptop."
In another case, the defendants bit off part of a victim's ear.
Said the judge: "This is one of the most vicious cases ever brought before this court. The defendants acted with premeditated malice, laying in wait for their victim, leading him to a secluded place and exercising brutal, unwarranted, violence."
Gay bashers sentenced to prison term [ynet]