In February I posted about a crackdown in the Persian Gulf Kingdom of Bahrain intended to rid the country of gay people. Authorities proposed surveillance of hairdressing salons and beauty and massage spas (you know, all the places where gays hang out in huge numbers) as well as stricter surveillance at the nation's customs points ("homosexuals pretend not to be gay by posing 'manly' until they make it past immigration" according to committee secretary Jalal Fairooz).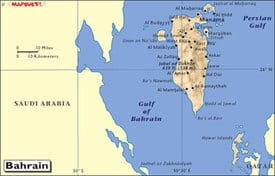 Now it appears authorities are taking their surveillance one step further, targeting children who display homosexual tendencies, according to Gulf Daily News:
"The committee is also demanding that the Education Ministry carefully monitor students and punishes those veering towards homosexuality. MPs urged the ministry to raise awareness amongst students, possibly through lectures given by visiting health specialists, psychiatrists, or sociologists."
Gays and human rights groups in the region are understandably furious.
Previously
Crackdown on 'Dangerous' Gays Proposed in Bahrain [tr]