Canadian PM Stephen Harper urged to repudiate gay slur by Saskatchewan MP Thomas Lukiwski: "The prime minister needs to deal with this issue directly and try to put it behind him as soon as possible. I think the prime minister has to personally say, 'I don't accept these comments, I repudiate them and it's not part of the party or the government or where its mind is at on a lot of these issues right now."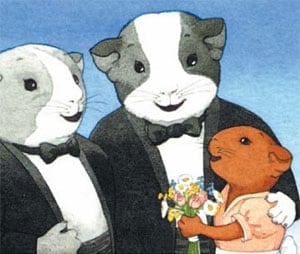 New book Uncle Bobby's Wedding teaches children about same-sex marriage: "Cute guinea pigs stand in for humans in this sensitive story in which Chloe is not concerned that her favorite uncle is marrying another male, only about how it will affect her close relationship with Uncle Bobby. When he assures her that they can still have fun together, she relaxes and gets into her role as flower girl. Sarah S. Brannen takes a calm, straightforward approach to this hot-button issue, as when Chloe asks her mother, 'How can Uncle Bobby get married?' Mama answers, 'When grown-up people love each other that much, they want to be married.'"

Woody Harrelson goes skinnydipping with Owen Wilson.

New York City Council Speaker Christine Quinn in slush fund scandal: "Chris Quinn could well become the first lesbian mayor of the largest city in the United States, but she could just as well end up indicted in a fiscal scandal that threatens to unravel what has been a political career marked by political savvy and unbounded ambition."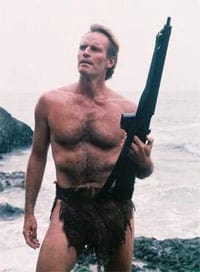 Charlton Heston dies at 83: "Although Heston talked about and praised the "brilliantly talented homosexuals" he worked with during his career, he was often accused of being homophobic, especially later in his life. In a 1997 speech at the Free Congress Foundation's 20th Anniversary Gala, Heston was criticized by gay rights groups, including GLAAD, for derogatory remarks made toward the gay community. In the speech, Heston demonstrated both tolerance and discrimination against gays in almost equal measure. 'Many homosexuals are hugely talented artists and executives… also dear friends. I don't despise their lifestyle, though I don't share it,' Heston stated. 'As long as gay and lesbian Americans are as productive, law-abiding and private as the rest of us, I think America owes them absolute tolerance. It's the right thing to do. But on the other hand,' Heston continued. 'I find my blood pressure rising when Clinton's cultural shock troops participate in homosexual-rights fund-raisers but boycott gun-rights fund-raisers… and then claim it's time to place homosexual men in tents with Boy Scouts, and suggest that sperm donor babies born into lesbian relationships are somehow better served and more loved.'"

Censor board bans four films at Singapore Film Festival: "It said the films 'exceed the Film Classification Guidelines'. Board of Film Censors chairman Amy Chua said 'Arabs and Terrorism' and another film, 'David the Tolhildan', were "disallowed on account of their sympathetic portrayal of organisations deemed terrorist organisations by many countries…Another rejected film, 'A Jihad for Love' by gay Muslim film-maker Parvez Sharma, is about homosexual people living within Muslim communities, the festival said. In a statement, Chua said the film was disallowed because of 'the sensitive nature of the subject'."

JC ya later: Chace Crawford and Carrie Underwood broke up via text message.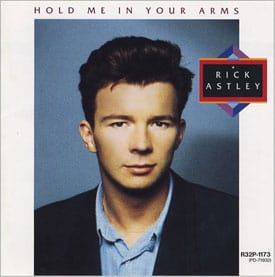 The ugly homophobic truth about the RickRoll.

Protest as "ex-gay" group Exodus International holds convention in Fresno, California: "The opposing viewpoints echoed a debate that has played out across the country. The Orlando-based Exodus and a handful of other groups have sought to present what they describe as a Christian alternative to a gay lifestyle. But their efforts have inspired a backlash from people who say such an approach can lead to self-loathing. Saturday's protest was cordial. The protesters — about a dozen — kept their distance, and at one point, Exodus president Alan Chambers offered to bring them coffee. It was the last day of a three-day conference. About 150 people from all over California attended. It included talks by the mother of actress Anne Heche, who had a relationship with openly gay Ellen Degeneres, and Chambers, a formerly gay man who has since married a Fresno woman. They have two children."

Death by blogging: Can't say I don't relate.

Head of security for Siegfried and Roy details Roy Horn's instructions for him to cut up their deceased tiger Sahara and cremate it.

Moment of truth: Perez Hilton takes lie detector test over John Mayer make-out session.