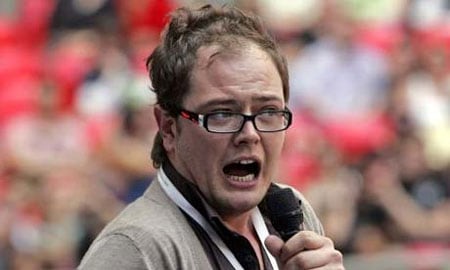 Comedian Alan Carr hosts the Friday Night Project in the UK. The Guardian posted a profile on him in Sunday's edition. Said Carr:
"Gays hate me. I just think gay people need to get over themselves. Just because you're gay and on the telly doesn't mean you're a role model. I'm just a comedian. That's all I am. If you find me funny, good. But they look at me like, "Oh, you're letting the side down. I've done the circuit, I've won competitions and awards and this wasn't just in some tired old drag act. I haven't just minced on to the stage and said, 'Ooh I've got the willies up me.' Please, give me a little bit of credit. What am I meant to do? Do I go down the Julian Clary route and talk about fisting and poppers? I don't talk about being gay and I think what better equality for gays than that?"
AFTER THE JUMP, a clip from Alan Carr's Friday Night Project from last July featuring John Barrowman.
Mr. Nice Guy [the guardian]