GLAAD pulled out of a "Pride Rocks" event scheduled for the summer at San Diego's Manchester Grand Hyatt after discovering that the venue's owner, Doug Manchester, helped fund foes of same-sex marriage and their recent ballot petition drive: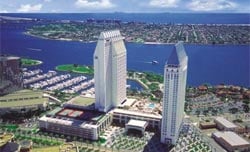 "Manchester, a local developer, contributed $125,000 to a drive to put a same-sex marriage ban before voters in November. Backers of the ban have said this week that they have gathered enough signatures to qualify the proposed constitutional amendment for the ballot. The president of the gay and lesbian alliance , Neil Giuliano, said in a news release that Manchester's decision to fund an initiative that would 'hurt loving, committed gay couples makes it impossible for us' to take part in an event that promotes his hotel. Giuliano urged other members of the gay and lesbian community to withdraw from the event also."
Manchester welcomes gays and lesbians to his hotel and restaurant, the San Diego Union Tribune reports, but doesn't want to see them married.
related
Same-Sex Marriage Foes in California Ready to Submit Petitions [tr]
California High Court Preparing Pro-Gay Ruling on Marriage? [tr]
Schwarzenegger Calls Gay Marriage Ban 'a Total Waste of Time' [tr]