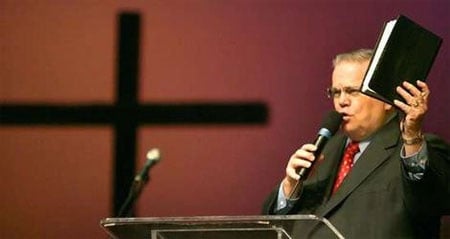 Early last week, Pastor John Hagee told right wing radio show host Dennis Prager that he still believed that Hurricane Katrina destroyed New Orleans because gays were planning to hold a sinful gathering there.

The reiteration inspired a flurry of renewed protest, forcing John McCain, who has "gladly" accepted Hagee's endorsement, to respond. By the end of the week, a short-tempered McCain was snapping at reporters that the whole controversy was "nonsense."
At about the same time, apparently, Hagee's office was issuing this statement:
"As a believing Christian, I see the hand of God in everything that happens here on earth, both the blessings and the curses. But ultimately neither I nor any other person can know the mind of God concerning Hurricane Katrina. I should not have suggested otherwise. No matter what the cause of the storm, my heart goes out to all who suffered in this terrible tragedy. There but for the grace of God go any one of us."
Quite a turnaround, eh?
AFTER THE JUMP, a round-up of Hagee's controversial views.
(via pageoneq)