California Governor Arnold Schwarzenegger spoke out at Friday's Log Cabin Republican convention in San Diego about efforts in the state to put a measure constitutionally banning same-sex marriage on the state's ballot in the upcoming election.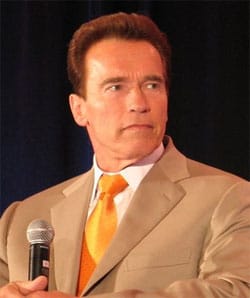 Rex Wockner wrangled the full quote: "Well, first of all, I think that it would never happen in California because I think that California people are much further along with that issue. And, number two, I will always be there to fight against that, because it would never happen. I think we need a constitutional amendment so that foreign-born citizens can run for president, but not about gay marriage. That's a total waste of time."
Opponents of marriage equality said at the beginning of April that they have nearly one million signatures supporting the anti-gay measure. Schwarzenegger's statement has been hailed as a salvo against those efforts.
Said Geoff Kors, executive director of Equality California: "This is extremely significant, and it's an enormous event to have our Republican governor come out against this ballot measure, which is opposed by Democrats as well. It makes this opposition a bipartisan issue."
Schwarzenegger has continually vetoed and promised to veto legislation that would legalize same-sex marriage in the state. His position on that remains unchanged.
Following, his statements, one LCR member urged the governor: "Arnold, I loved all your movies. … Take your shirt off!"
Teased Schwarzenegger: "Why stop there?!"
Arnie: Marriage-ban effort "a total waste of time" [rex wockner]
Fun with the Governator… [rex wockner]
Governor against amendment to ban gay marriage [sf chronicle]
(image: rex wockner)