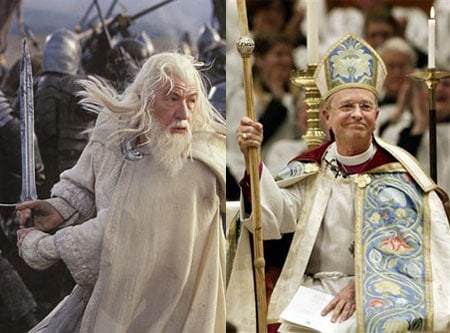 Last week I reported that although openly gay Episcopal bishop Gene Robinson has been shut out of the Anglicans' annual Lambeth Conference, he would still be attending and had signed up Sir Ian McKellen to help create a stir.
The Telegraph has more details about what that event will be:
"In an act of solidarity with the Rt Rev Gene Robinson, the Church's first openly homosexual bishop, the celebrated actor intends to read out a sermon written by the prelate, who has been barred from the landmark Lambeth Conference this summer that is seeking to prevent a schism over the issue. Standing alongside the bishop, who will remain silent throughout, the star of The Lord of the Rings will deliver a broadside against the Church's attitude to homosexuals with the kind of passion and force normally reserved for his performances on the stage."
We can't wait.
Last week…
Ian McKellen to Join Gay Bishop Gene Robinson at Anglican Confab [tr]