Tomorrow is the five year anniversary of the day Bush stood on the deck of the USS Abraham Lincoln in front of the banner that read "Mission Accomplished" and said, "Major combat operations in Iraq have ended." Since then, 3,920 U.S. soldiers have been killed and countless Iraqi civilians.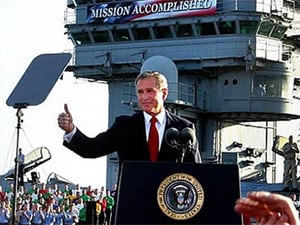 Here's this year's spin on that speech, according to a White House press conference today:
Dana Perino: "President Bush is well aware that the banner should have been much more specific, and said, 'Mission Accomplished For These Sailors Who Are On This Ship On Their Mission'. And we have certainly paid a price for not being more specific on that banner. And I recognize that the media is going to play this up again tomorrow, as they do every single year."
According to Think Progress, "This is only the latest tack the White House has taken to defend Bush's 2003 remarks. Last year, Perino insisted that 'we did prevail,' while former press secretary Tony Snow laughably claimed that Bush 'said just the opposite' of 'mission accomplished.'"
Watch the press conference, AFTER THE JUMP…
Um…um…um. Dana Perino is about this close to a Kristen Wiig SNL character. What a joke, if it weren't such a crying shame.