In an interview to be broadcast on the BBC news program Hardtalk, gay Episcopal Bishop Gene Robinson criticizes Rowan Williams, the Archbishop of Canterbury, for failing to confront anti-gay critics in the church, specifically, Nigerian Archbishop Peter Akinola, whose stance against homosexuality has been seen as a major cause of the rift within the church.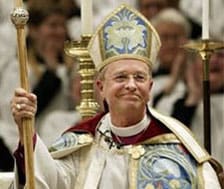 "I believe [Dr Williams'] unwillingness to confront Peter Akinola and others like him who've made statements that I think any reasonable person would find over the edge – I believe God is very disappointed in that."
Akinola is seen as a force in perpetuating violence against gays and lesbians. Robinson, who plans to attend events around this summer's Lambeth Conference even though he was not invited, has been speaking out about death threats against him and tells the BBC that he sometimes wears a bulletproof vest at public appearances.